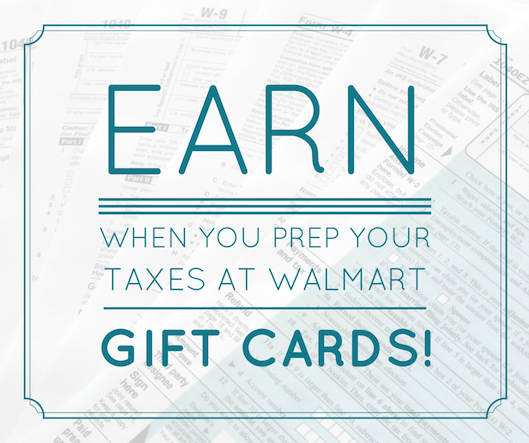 Tax time is not my favorite time of the year… While I no longer file our taxes myself, I remember the days of using TurboTax all too well — as well as the angst of wondering if I'd done everything correctly. I'd agonize over hitting the submit button, knowing that having to correct anything after the fact would be even more nerve wracking.
Luckily there are many affordable professional tax filing services available these days, including several conveniently housed right within your local Walmart store. Tax professionals from Jackson Hewitt and Liberty Tax will be in select stores to help you prepare and file your taxes quickly and accurately, giving you peace of mind while ensuring that you maximize your tax refund.
You know I'm all about saving time and money, and this service does both! You can choose to file online, schedule an appointment, walk in or even just drop off your tax documents — a total win for busy moms and dads.
Bonus Offers for Tax Prep with Walmart
In addition to the time and money savings, you can also get a little something extra when filing your taxes through Walmart by taking advantage of one or more of the gift card bonus offers below:
Jackson Hewitt $20-$50 Walmart eGift Card — Jackson Hewitt is offerin two gift card options through March 31st. Get a $20 Walmart eGift Card when you file online, or get a $50 Walmart eGift Card when you file in store.
Liberty Tax $50 Cash — Liberty Tax is offering $50 in cash when you file via their tax prep services.
Liberty Tax $50 Refer-a-Friend Bonus — Liberty Tax is also going one step further and will give you another $50 in cash when you refer a friend to their services. See a Liberty Tax professional for details.
$10 Bluebird Bonus — Open a new Bluebird Account and elect to have you electronic income tax refund direct deposited to your account to receive a $10 bonus.
Walmart Direct2Cash Cash Pickup Option for Tax Refunds
In addition to Walmart's tax preparation services and bonus offers, they've also just launched a first-of-its-kind option that will allow consumers to "skip the check" and pick up your tax refunds in cash. This new option, called Walmart Direct2Cash is available nationwide now. More details here.
Visit the Walmart Tax Prep Services page for more details on all of these promotions, as well as helpful tax time tips and advice.