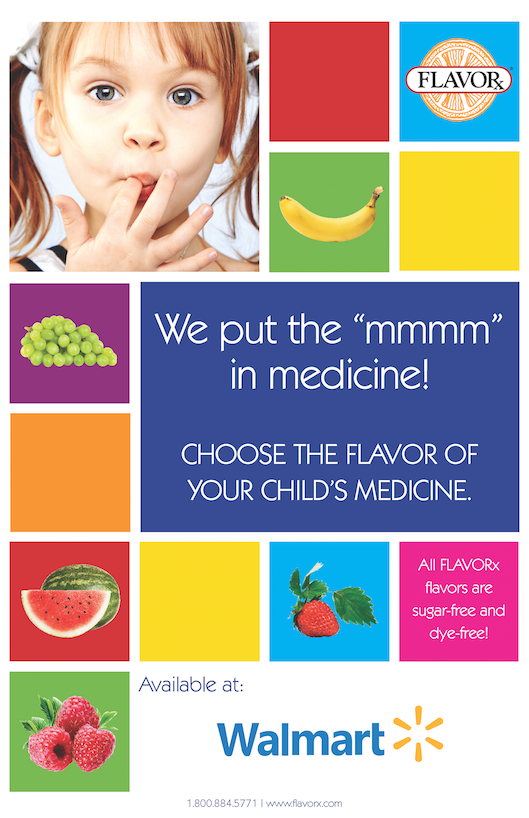 Chances are at some point in your life as a parent, you've experienced a knock-down, drag-out battle with your kids over taking a prescribed medicine. And if you haven't, count your blessings!
Perhaps it's just harder since we have a large household full of strong personalities, but a couple of my kids have an aversion to anything grape-flavored, while others can't stand grape and prefer bubblegum. And then there's the lone child that can't stand either…
Hopefully this won't be such an issue in the future, though, thanks to FLAVORx. If you have a child that struggles with taking medicine, you're definitely going to want to learn more about this.
What is FLAVORx?
Available at Walmart, FLAVORx is a dye-free, sugar-free, gluten-free and casein-free medication flavoring system. FLAVORx is designed the enhance the taste of most liquid medications, although there are a handful of medications that cannot be flavored due to stability concerns. The majority of liquid medications can be flavored, including antibiotics and even OTC medications.
How do I flavor my child's medicine with FLAVORx?
You child can choose his or her favorite flavor right at the Walmart Pharmacy! Banana, sour apple, bubblegum, and many more are available. Simply ask for FLAVORx at the window when dropping off the prescription, or better yet, fill out the form below, checking off your desired flavor, and present it along with your prescription.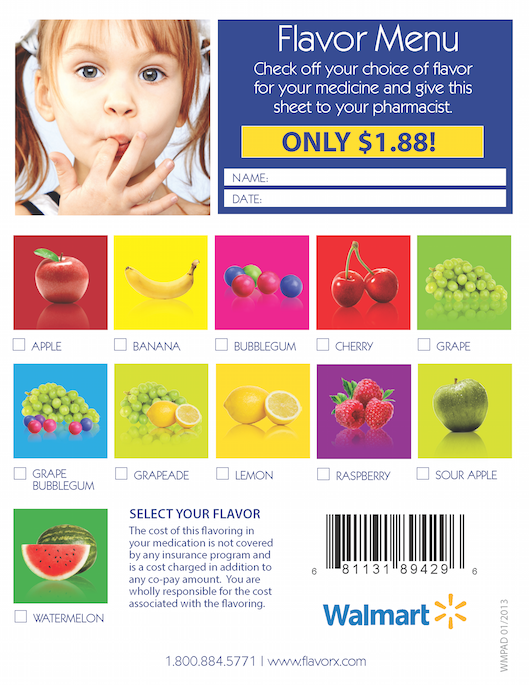 Not sure which flavor to choose? Fred the Flavorbot can assist you in selecting the best flavor options for your medicine. Just choose your medicine from the dropdown list, and he will recommend the flavors that will work best.
Adding FLAVORx to medicine increases the cost by a mere $1.88 — a small price to pay to avoid some of the tantrums we've had in our household. Note that FLAVORx is not covered by any insurance program, so the cost will be added on to any co-pay amount due.
Will FLAVORx help you reduce medicine-time stress?