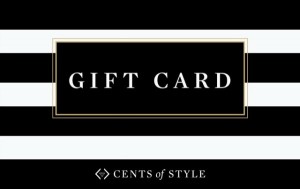 Last minute shopping for the fashionista on your list?  Gift Cards are the perfect last minute gifts that don't need to ship and come right to your email.  Score a BONUS Gift card with your gift card purchase from Cents of Style today! Here's what you can get:
FREE $10 Gift Card wyb 1 $50 Gift Card
FREE $15 Gift Card wyb a $75 Gift Card
Enjoy your bonus gift card and stretching those dollars with this deal!