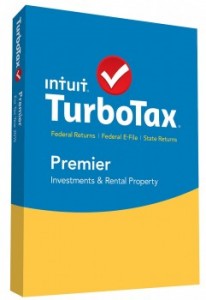 Be ready for tax season with TurboTax Premier 2015 Federal + State Taxes + Fed Efile Tax Preparation Software (PC/Mac Disc) for $54.85
!
Everything in Deluxe plus specialized guidance for handling your stocks, bonds, mutual funds and employee stock plans
Ensure accuracy with automatic import features-Import financial data, W-2s, investment and mortgage information, as well as last year's tax data
Includes expert answers via phone-Get one-on-one answers to your tax questions by phone from our credentialed CPAs and EAs*
Save even more for your retirement-With our IRA calculator, we'll maximize your deductions based on your contributions
Includes 5 Free Federal E-Files and one download of a TurboTax State product
Not sure you need the Premier Edition? You can save on other TurboTax software today too, including:
Thanks, "Cents"able Momma!