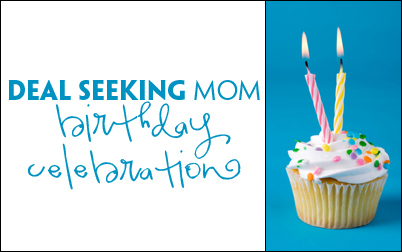 Thank you all so much for celebrating Deal Seeking Mom's birthday with me yesterday!
Congratulations to Ashlee (wolfe.ashlee@…), Jessica (jalundgr@…) and Monica (mosam11@…), who each found one of the hidden buttons, and congratulations to Kristie (kash_30_82@…) for being the first to answer all 10 questions correctly. You should have each received information on how to claim your prize!
If you're wondering about the answers to yesterday's trivia, here you go:
What breed are my two dogs? Italian Greyhounds
What sport did I play in college? rugby
What type of surgery did I have last year? screws in my foot to repair torn ligaments
What is my frozen drink of choice? margaritas
Is my youngest child a boy or a girl? a boy
How did my husband and I choose our kids' names (and our dogs' names too!)? they're all related to baseball

How far apart were my first two children born? 12 months

What type of car did I have to give up when I got pregnant with #3? 1997 30th Anniversary Edition Z28 Chevy Camaro
What did I give my husband on our wedding day? a hinged silver-plated fortune cookie Christmas ornament with a custom fortune inside
Grab the URL of any post from the first day at Deal Seeking Mom and paste it here: (there were many to choose from, but here are the ones that are still valid or useful today!)

Thanks again for playing along. Deal Seeking Mom.com wouldn't be a success without each of you, and I'm looking forward to another great year!