I just had to share this with you all because I think it's the cutest thing ever, but then again, maybe I'm a tad biased.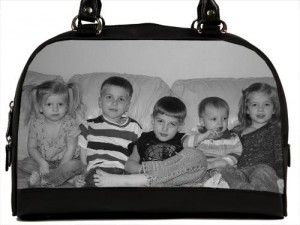 I stumbled across the Snaptotes website a few days ago – it allows you to upload any photo of your choosing and they'll print it on the handbag (or wallet and more) of your selection.
Isn't it adorable?
Of course the hardest part was getting all five kids to sit still and close together so I could get a decent photograph. But uploading it to the Snaptotes website and placing it on the bag was super easy. You just zoom and nudge until it's right where you want it, and then you save it.
This would make a fabulous Mother's Day gift (hint, hint to any dads that might be reading), but you have to order by April 30th in order to receive it in time! And here's a little incentive . . . Snaptotes is graciously offering my readers an exclusive 10% off code when you enter SEEK10 during checkout.
So what do you think, ladies – yay or nay???