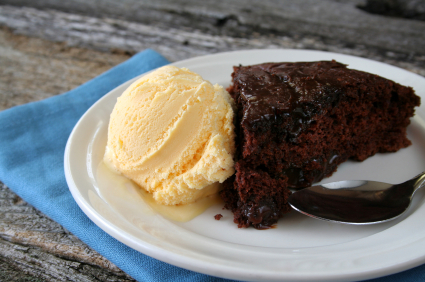 In honor of the Chocolate Party over at Life as Mom, I thought I'd post my to die for hot fudge cake recipe. There's nothing like it right out of the oven with a scoop of vanilla bean ice cream. Plus it's a great recipe to make with kids. It's super easy, and they'll think it's magical the way it separates into layers of gooey chocolate and rich hot fudge. You'll love it because the touch of cinnamon adds a little something extra that you just can't quite put your finger on.
Ingredients
1 c. all-purpose flour
2/3 c. granulated sugar
2 t. baking powder
1 t. ground cinnamon
1/2 t. salt
1/2 c. unsweetened cocoa
1/2 c. whole milk
2 T. melted butter
1 t. vanilla extract
1 c. packed brown sugar
1 1/2 c. boiling water
vanilla bean ice cream
4 Easy Steps
1. Preheat oven to 350 degrees. Grease an 8″x8″ glass baking dish or shallow 2-qt. casserole.
2. In a medium bowl combine flour, granulated sugar, baking powder, salt, cinnamon, and 1/4 c. cocoa. Whisk in milk, melted butter, and vanilla just until smooth. Spread batter into baking dish.
3. In a small bowl mix brown sugar and 1/4 c. cocoa. Sprinkle evenly over batter. Carefully pour 1 1/2 c. boiling water over mixture. DO NOT STIR.
4. Bake for 30 minutes. Batter will separate into cake and hot fudge layers. Cool in pan on a wire rack for 10 minutes. Serve warm with ice cream. It tastes just as good reheated, but you will have less fudge because the cake will absorb it.
Enjoy!!!