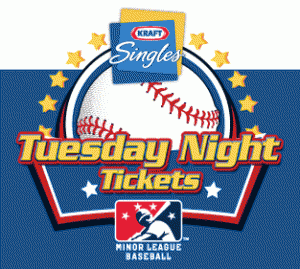 My husband is a huge baseball fan – so much so that all of our kids (and our two dogs) are named after baseball in some way. To be more precise, he's a Cubs fanatic and has been since about the age of seven. If you know anything about their history, you can just imagine his frustration over the past few years.
Anyhow, all of this is to say I was ecstatic when A Busy Mom of Two sent me this great Kraft offer. Starting May 12th through September 1st, take a Kraft Singles wrapper to any Tuesday game for the opportunity to buy one ticket and get a second ticket free at participating Minor League Baseball parks!
Of course this is a great way to capitalize even more on that $1/2 Kraft Singles printable that's currently available.
We'll definitely be using this opportunity to see the Columbus Clippers in action this summer. I'm doubly excited because the they have a brand new stadium this year, and my husband is anxious to see the finished product since he did some of the work on it!