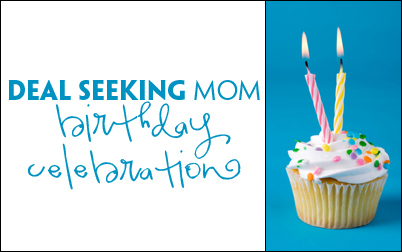 Two years ago today, DealSeekingMom.com was born, and it's been quite the ride as the site has grown more than I could have ever imagined! Last month we celebrated hitting 50,000+ subscribers, more than 20,000 Facebook fans and more than 25,000 Twitter followers, and today I've got some party games planned to help us celebrate Deal Seeking Mom's birthday as well . . . with awesome prizes, of course!
Throughout the day, I'll be hiding a button featuring the cupcake pictured above in various places on Deal Seeking Mom. You'll have three chances to win a $50 Sephora gift card by being the first to spot each button. Just click on the button to send me an email when you spot it! Each time one is found, I'll hide another.
Psst, Facebook fans and Twitter followers will hear about the new buttons first, so be sure to follow me if you're not already!
One lucky Deal Seeking Mom reader will win a $200 Amazon gift certificate
. But this isn't just a random giveaway! I've embedded a quiz below , and the first person to answer all ten questions correctly wins! (Click here to take the quiz if you can't see it below!) I guarantee you'll find all of the answers in posts here at Deal Seeking Mom, so put your detective hat on…and have fun!