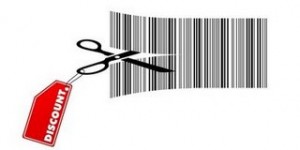 Back when I was a novice couponer, I had NO idea that you could get items free using what I would call regular, everyday coupons, i.e., coupons that aren't marked as getting the item free. Most stores will accept your dollar and cents off coupons on items that are less than the value of the coupon. This happens more frequently than you think if you use a coupon to buy a sample size item or if your store doubles coupons.
For example, you can purchase many Johnson's sample size items with the $1 off coupons that they frequently have out and receive them for free. You do have to read the fine print on the coupons, because some specifically state the sizes that they're valid on, but if it's not stated, samples are fair game!
Better yet, many stores will apply the "overage," the difference between the value of the coupon and the price of your item, to the balance of your transaction. I never count on this happening, as it can vary from store to store and even cashier to cashier, but it's always a pleasant surprise when it does happen.
This doesn't have to apply to just sample sizes. For example, a few weeks ago CVS had Excedrin 24-ct. bottles on sale for $1.99. I printed some $2 off coupons from online and was able to purchase them for free, and in this case the cashier did apply the one-cent difference from each to the rest of my transaction.
This little tip has saved me quite a bit since I learned it, so I love to pass the info on!!!