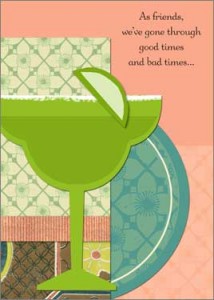 Get your free personalized Hallmark card now with code CARD4U! Sorry – gone already!!!
Making it is easy:
Choose a paper card online.
Personalize it.
Hallmark will address, stamp, and mail it for you!
I'm told these free codes go very fast, so don't hesitate. Order yours now!
(Thanks, Moms By Heart!)
BTW, the inside of this one says, "We've also gone through a lot of margaritas, which helps." As my good friends know, I'm a bit of a margarita freak, so I thought this was fitting!