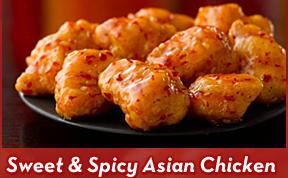 It's that time of year – sports are starting up, which means dinnertime is even more hectic than usual. With 5 kids playing on 4 different sports teams, I'll be the first to admit that, yes, we do turn to fast food for dinner maybe a little more often than I'd like to right now.
If you ask my kids where they want to eat, 9 times out of 10 they're going to yell McDonald's, but after working at McDonald's throughout high school and college, just the thought of a Big Mac turns my stomach. So I was intrigued to hear that Wendy's had a new menu offering, Boneless Chicken Wings.
The wings come in three flavors: Bold Buffalo, Honey BBQ, and Sweet & Spicy Asian. I decided to give the Sweet & Spicy Asian a whirl, and I was pleasantly surprised at how tasty they were. And after a little research, I was even more delighted to find out that they are made from 100% whole chicken breasts.
I'm so excited to have a delicious alternative to the same old boring fast food monotony. Plus, as an added bonus, my hubby loves the Bold Buffalo and the kids like the Honey BBQ. Score!
I wrote this review while participating in a blog campaign by Mom Central on behalf of Wendy's and received a sample to facilitate my candid review. In addition, Mom Central sent me a gift card to thank me for taking the time to participate.