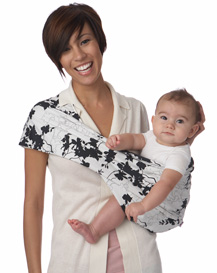 It's been quite a while since I've done one of these Sanity Savers posts, but I just had to share one of my favorite new sanity savers!
I was recently introduced to the Hotslings line of baby slings, and oh my, how did I make it through the four previous kids without discovering these?
Yes, I've used slings with the others, but none of them had the leg padding feature like these that makes the hip carry so much more comfy for baby. No more fabric digging into those adorable, dimpled baby thighs!
Hotslings allow me to tote my clingy baby boy around the house with me, while keeping my hands free to do other things.  They come in an array of colors and fabrics (including reversible!), with price points ranging from the low end of $48 to $60 up to $105 to $150 for the high-end luxury fabrics in The Haute Collection.
Features:
Safe for newborsn & toddlers up to 35 lbs.
Leg padding built in for comfort & support.
Promotes the bonding experience.
Calms fussy babies.
Great for nursing moms.
Multiple carrying positions: cradle, hip & front.
Sling and Go. It is that easy.
Machine washable.
Made in the USA.
Hotslings also has a gorgeous new line of nursing covers that make nursing in public discreet and chic!
Through December 31st, Hotslings is running a promotion where you'll receive a complimentary pair of BabyLegs with any Hotslings purchase!  If you've never heard of BabyLegs, they're a line of leg and arm warmers for babies and young children that are to die for cute.
Hotslings would make a fabulous Christmas gift for expecting moms, new moms, or even moms with toddlers – practical and useful but fun and stylish all at the same time!