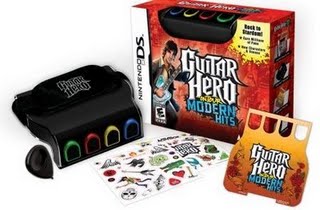 My boys were totally excited to have the opportunity to try out Guitar Hero on Tour: Modern Hits and Guitar Hero on Tour: Decades courtesy of Mom Central. Unfortunately, we had to send their Nintendo DS handhelds in for repairs shortly before we received the package.
The good news is they got their systems back in excellent time and have been jamming with these two games ever since. While the old standbys of Mario and the Lego sagas are still number one in their books, the Guitar Hero games provide a nice change of pace.
Some thoughts on the games:
It was really interesting to see how they adapted this game to a handheld format after playing the Xbox 360 version for awhile. The "keyboard" seems a little awkward for adult fingers (or maybe it's just that I have long fingers) but seemed well-suited for their much smaller hands.
While I wouldn't deem the music inappropriate, my boys weren't all that familiar with it. I think they would have enjoyed it more if there were songs that were more in their age group, i.e. possibly the Disney stars.
The wireless play options for the Decades game is really cool and gives moms and dads a nice break because the kids can play together in any room.
Overall I'd consider these games a worthwhile investment because of the family appeal. While my boys enjoy them and play them occasionally, my husband loves them and will play for hours at a time. Admittedly my boys are slightly under the recommended age range, so it's very possible that this is a game that will hold more appeal in a year or two.
For additional information visit www.guitarheroontour.com.
This is a blog tour compliments of Mom Central.