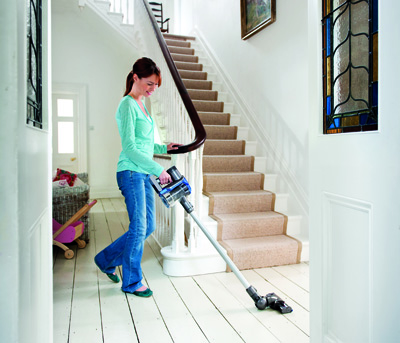 So I introduced you to the Dyson DC35, and I took you behind the scenes to see what goes into the making of a Dyson vacuum — now you're probably wondering what it's like in action. I actually have Dyson DC25 All Floors Ball vacuum that I absolutely love, so I had some pretty high expectations going into testing the DC35. It didn't let me down one bit.
Maneuverability –The DC35 has the same ball feature on the head, which allows it to pivot and turn to easily pick up all of those crumbs left beneath my kitchen table after every meal. It's smooth and effortless and even my kids can push it. In fact, I've only had to vacuum with it a handful of times, because my kids bicker over who gets to sweep with it — I'll take it!
Suction — The Dyson Digital Slim really excels in the suction department. There isn't a speck of dirt or dust left behind, and the multiple attachments make it easy to get in all of the cracks and crevices that my other kitchen vacuums couldn't even touch.
Convenience — I love that the Digital Slim has three different attachments that allow it to convert from a floor vac to a hand vac. It actually completely eliminated the need for my other hand vac, so we moved it upstairs for quick use. The charging station is phenomenal. Everything has a place, and it's easy to place the vacuum back on the charger after each use so it's always ready to go when I need it.
So are there any drawbacks to the DC35? Well, it is pricey at $299. However, after seeing the work that went into it, I feel like it's a good investment — and as I mentioned, it's actually taken the place of two different vacuums I owned previously. Also, when you use the vacuum on high, it only lasts for approximately six minutes on a single charge. However, when you use it in regular mode, it goes for 15+ minutes of constant suction which I think is very reasonable.
Overall, I would definitely recommend this product to other moms. It's made cleaning up after my kids a breeze, and believe me, they really know how to make a mess!
Disclosure: I am a participant in the Walmart Moms program. Walmart has provided me with compensation for the time and effort spent creating this post. However, my participation in this program is voluntary and my opinions are my own — always have been, always will be.