The Rose Petal Cottage collection is totally one of the cutest toy lines out there for little girls right now.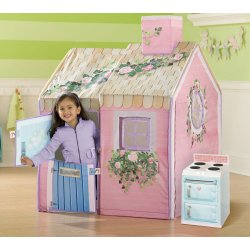 I just might have gone a little nuts buying this adorable house and all the accessories for my girls last year, but the look on their face Christmas morning was priceless and it's a toy that they still play with every single day.
I might add that I paid a MUCH higher price.


Wow, that went really quick. You might keep checking back to see if they lower it again, but for now the price has been raised to $59.99.
Right now you can get the Rose Petal Cottage at an absolute steal for just $29.99, and even better, there's FREE shipping on it! This 63% off the retail price, so even if you add an accessory or two, you're still getting a great deal. I'm sure they won't last long at this price, so you'll want to get in on this ASAP.