This is a guest post from Mandi of Doodles' Place. She's on a bit of a blogging break, but if you enjoy her article, you can find many more crafty ideas on her site!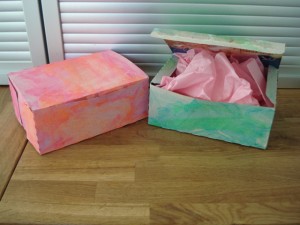 When Tara asked if I would be willing to write a guest post this week and suggested that one of my "Something Old, Something New" crafts might fit the bill for her frugal readers, I immediately thought of this project that I first shared back in July. I think these would make great disposable "tins" for Christmas cookies. I don't know about you, but while I love adorable Christmas tins, I really don't ever know what to do with them afterward, and making them adds an extra special touch to the gift as well.
First, I found snack boxes in the pantry that were the right shape and size. Then I laid out the boxes and got some paint ready for my girls. They painted with two colors each (pink/purple and blue/green),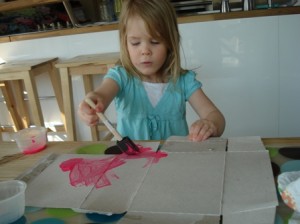 covering the box in one color and then adding a second on top. Because we wanted to take them to our neighbors right away, I stuck them in the still-warm oven (from baking our cookies) to help the paint dry. I used hot glue to re-assemble the boxes, and then we added tissue paper and the cookies.
This is an incredibly easy – and inexpensive – project. Not only did the girls have fun, but they were proud of their work, and the neighbors oohed and ahhed over them appropriately as well. I think they were a really cute way to deliver cookies, and I plan to do the same thing for Christmas this year. To dress them up some, I'll let the girls add ribbon, buttons and other embellishments once the paint dries.
What about you? What's your favorite "recycled" gift?