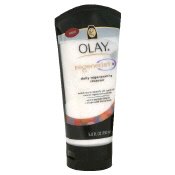 I just wanted to call your attention to this great deal left in the comments for the Walgreens deals this week.
Laina from Abundant Food Savings shared that there is an awesome $15 Oil of Olay mail-in rebate available currently. You'll receive a $15 gift card when you purchase any two Olay Regenerist cleansers or moisturizers between 12/14/08 and 1/14/09. Limited to one $15 gift card per customer name, address, or envelope.
Olay Regenerist Cleansers are $7.49 at Walgreens. Pair two of these up with the $5/2 Olay Regenerist Facial Cleansers coupon from the 12/14/08 P&G insert, earning you $5.02 after the mail-in rebate! Also, as Kristy pointed out in the comments, if you ask them to print the receipt twice, you can use this towards your $50 for the P&G Coupons offer.

Special thanks to Mercedes at Common Sense with Money for confirming that the buy one get one 50% off sale isn't valid on the cleansers.