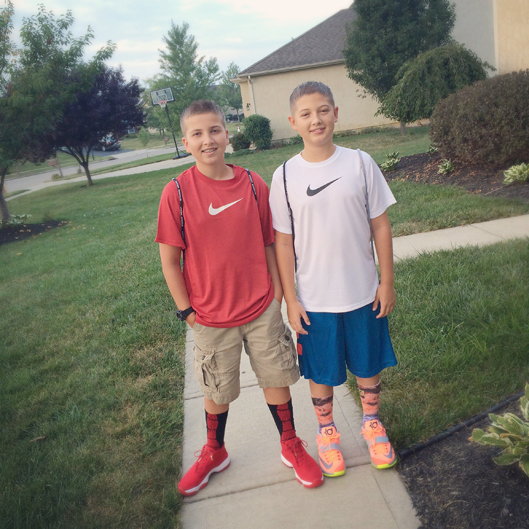 Despite the state of denial I've been living in for the past few weeks, my two oldest boys headed off to middle school earlier this week. I'm not even sure how it's possible — it feels like they were just born yesterday!
I'd be lying if I said I let them go without a trace of anxiety. I remember middle school all too well… struggling with more difficult classes, the insecurities, trying to find my "tribe", made all the more difficult by raging hormones that wreak havoc on your body and skin.
Gah, that's one period in my life that I have absolutely no desire to revisit!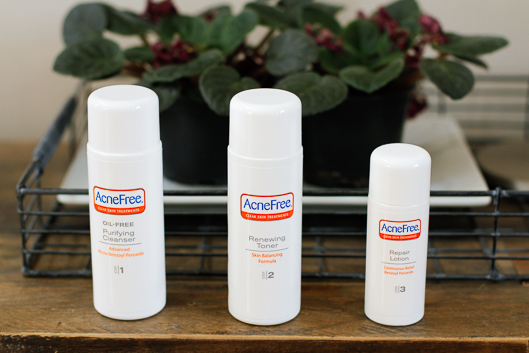 I guess it's the mama bear in me, but I'll do whatever it takes to protect them from the worst of it whenever possible…
I've noticed some minor issues with pimples and blackheads with both boys over the course of the summer, so I was very grateful when AcneFree introduced themselves to me and asked if I'd be interested in having my boys try their 24-Hour Acne Clearing System. I figured it's never too early to teach them good skincare habits, hopefully saving them from some of the acne issues that both my husband and I experienced when we were younger.
The AcneFree system uses micro-sized benzoyl peroxide, which is designed to work faster and penetrate deeper into pores. Their studies show that you can see results in as little as 1-3 days, and my boys did see impressive results by the third day.
Though the system is designed to use all three products daily, my boys have found that they don't need to use the lotion every day. Washing their face with the face wash and using the toner daily, while adding the lotion on alternating days, has been very effective at keeping their skin relatively clear without overdoing it.
And the best part — the AcneFree 24-Hour Acne Clearing System is on rollback right now for just $13.97! The weekly dermatologist visits that I needed in high school were at least twice that — and likely much more (obviously I wasn't footing the bill).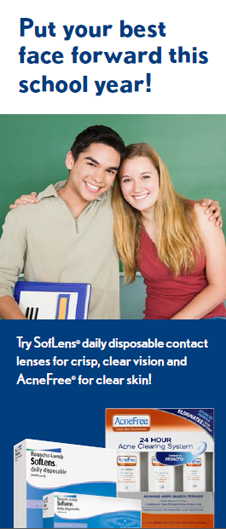 AcneFree has also partnered with SoftLens to help students put their best face forward this year. Though my boys don't need contacts, I've heard great things about the SoftLens daily disposables. With benefits like the following, I'll definitely consider them in the future if we have the need!
No daily cleaning, storage, or care required; wear them for a day, then, throw them away
Simple packaging makes it easy to pack contact lenses in your travel bag, gym bag, or your purse
High Definition™ Optics help reduce blur, halos, and glare across a full range of conditions
Slow release packaging solution delivers outstanding all-day comfort
Be sure to ask your doctor about a 5-day supply of SoftLens daily disposables, as well as a $20 Contact Lens Fitting Fee Rebate with the purchase of a six-month supply!
I know I can't protect my boys from all of the difficulties that middle school will entail, I'm glad I can at least help ease the way with products like these.