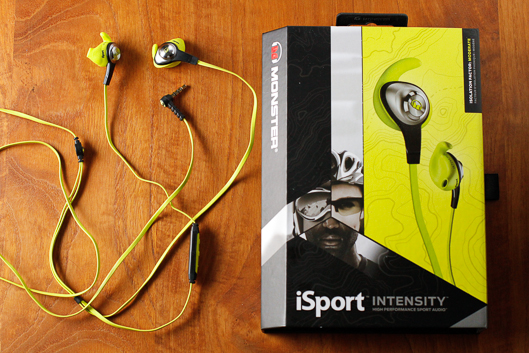 I was lucky enough to win a pair of these Monster iSport Intensity headphones when I attended a holiday trip to the Walmart headquarters back in October. The timing couldn't have been more perfect, as my husband had been begging me for a new pair of headphones to wear while running.
So I handed them over to him upon my return with the request that he give me his honest feedback on them after using them for awhile.
First, some specs on these headphones:
Apple ControlTalk for on-cable, hands-free smartphone and MP3 player calling and music control
Patented Sound Channel design seals in music
Patented SportClips and sound-isolating eartips provide a secure, customized fit that will not shake out or sweat out
Tough, durable, UV-protected and sweatproof for your most aggressive workout
Washable
Color: Green
But if you're looking to purchase a pair of these headphones, I'm sure you want more than just a list of features… Given that my husband went through three pairs of headphones over the summer before trying these headphones, I had my doubts. However, he absolutely loves the Monster iSport Intensity In-Ear Headphones. He's told me a number of times that the sound quality is amazing for the price, and he loves that they come with three sizes of SportClips eartips to allow the user to get a great custom fit.
In fact, his only complaint is pretty minor and is in regards to the placement of the Apple ControlTalk switch that controls the volume. He feels like it's a little too high up on the cord that's running to the headphone and could benefit from a little more slack so that it's not easily yanked out when used while working out.
A neutral point is that these headphones use a right-angle headphone jack. These are great when you want the headphones to plug in and stay flush with your phone or iPod, but they may not work with all cases and could require either an adapter or removal of the case for use. In my husband's instance, he just simply removes the bottom part of his case.
On the bright side, the flat, silicone cords discourage tangling and make these headphones much more durable than traditional round cords. Also, as both and indoors and outdoors runner, my husband is also very impressed with how these headphones are designed to seal in music, yet still allow the user to be aware of traffic noise.
The Monster iSport Intensity In-Ear Headphones are available both in stores and on Walmart.com for $99.95, and there's still time to purchase them with FREE shipping to arrive in time for Christmas!