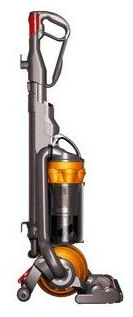 "Oh, Dyson, where have you been all my life?"
It sounds like something out of a soap opera, doesn't it? But I am truly, madly in love with the Dyson DC25 Ball All-Floors Upright Vacuum Cleaner
I was sent to review.
So what makes the Dyson DC25 so fantastic?
Maneuverability — I had my doubts about just how much easier the ball design would make vacuuming, but it really works! It makes it so much easier to roll the vacuum around tight corners. It's smooth and effortless, and as a bonus, even the older kids can push it!
Suction — I knew that we were nearing the time to replace our Hoover Windtunnel Upright, but I had no idea just how much dust and dirt it was NOT picking up. This was readily apparent the first time I took the Dyson DC25 for a spin.
I was totally unprepared for the amount of dirt in the canister when I was done. I may as well have not vacuumed at all over the past five years that we've been in our house from the looks of it. I wish I had thought to take a picture before my husband dumped the canister — it truly was the height of ickiness.
Convenience — I simply love the Telescope Reach wand feature. If I had a nickel for every time I went to use the wand on my Hoover only to find it MIA, I could probably have paid for the Dyson in change! But that's not all — not worrying about replacing bags and the ease of emptying the canister rank high on convenience as well.
So what don't I like?
Frankly, it's got a pretty hefty price tag. At $499, it's going to have to last quite awhile to offset the up front costs. With a five-year warranty, that shouldn't be an issue.
But what I found more compelling than the warranty was Dyson's analysis of the maintenance costs of other vacuums over a five-year period. The Dyson clocks in at $0 because there are no bags, belts or filters to replace. However, they calculate that other vacuums could cost as much as an additional $445 over a five-year period if you perform the routine maintenance recommended by the manufacturer!
So overall, yes, I am very impressed with the Dyson DC25, and I'm kicking myself for not making the investment years ago when my husband was trying to persuade me it was a good idea. Five kids and two dogs put a lot of wear and tear on our carpets, and I really think that we would not have the need to replace them so soon if we'd used a quality vacuum from the start.
Do you own a Dyson, and if so, what are your thoughts on it? Or have you found another vacuum that you feel works just as well at a lower price point?