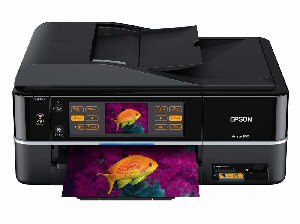 Check out my current obsession and sanity-saving helpmate, the Epson Artisan 800 All-In-One printer!
Isn't it just gorgeous?!? I mean as far as printers go, I'd say it's a 10.


Seriously, this is one of the coolest gadgets I have ever owned. I don't even know where to start counting the ways I love it.
It has built-in WiFi! My old clunky Dell had a wireless adapter, but this sleek beauty has WiFi right out of the box.  It was a breeze to network it with all of our computers, even the ones running Vista which never could run the Dell software.
The paper tray is completely enclosed! From one mom to another, I'm sure you know why this is such a big deal to me.  I can't tell you how many times I've gone to print a great coupon and the paper tray is empty because one of my kids used all the paper for their latest coloring session – or even worse, I lose the coupon altogether because they've caused a paper jam.  They have no idea how to get access to the paper in this baby!
The photo capabilities are astounding! Forget about all those photo deals online.  You can print borderless photos just like the pros right in the comfort of your own home, and frankly, I think the quality rivals theirs any day.  Plus the Artisan 800's Smart Ink System boasts fade resistance up to four times longer than photo lab prints.
It prints directly on CDs! Of course you have to buy special CDs, but think of the potential for gifts this offers.  Create a special video for grandparents and print a photo and title directly on the CD.  The possibilities with this are endless.
I haven't even scratched the surface of what this printer offers.  It comes packaged with tons of cool software that I haven't even had time to play with, but I intend to very soon. Oh, and I didn't even mention the fabulous touch screen that makes navigating the features simple and easy!
If you're looking for a printer just to print a coupon here and there, this probably is not the printer for you, but if you're looking for excellent photo printing capabilities with scanning, faxing, and much more, you can't go wrong with the Artisan 800.  Retail price on the Epson Artisan 800 is currently $249.99 after rebate, but I've seen it as low as $199.99 recently which is an excellent price for a printer of this caliber, especially one with built-in WiFi!
Special thanks goes to One2One Network for giving me the opportunity to test drive this superb piece of technology!