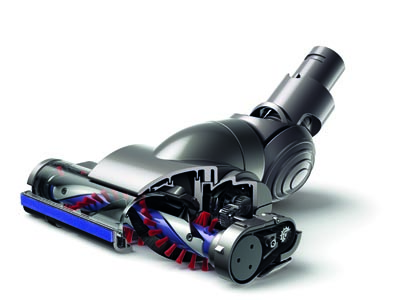 I introduced you all to the Dyson DC35 a couple of weeks ago. In case you missed it, the DC35 is the newest product in the Dyson lineup, a powerful cordless vacuum with a detachable that allows it to transition easily to a handheld. Like other Dyson vacuums, the Digital Slim doesn't lose suction, so you can tackle room after room, job after job.
A few interesting facts on the Dyson Digital Slim Vacuum:
Powered by the Dyson digital motor, the vacuum has anti-static carbon fiber brushes to remove fine dust particles from hard floors.
Dyson's patented Root Cyclone™ technology – condensed to fit into the machine – spins dust and dirt out of the air using centrifugal force, so there's no loses of suction.
A dual power mode allows up to 15 minutes of constant suction. For stubborn dirt, a button can trigger 6 minutes of higher suction.
A 26 inch, lightweight aluminum wand attaches directly to the machine to convert it from a handheld to a slim vacuum cleaner.
I found this behind the scenes video showing all that goes in to engineering and testing fascinating. I think the fact that Dyson tested this product for three full years before bringing it to market shows their dedication to quality. Take a look and tell me what you think — and I'll have an opportunity for one lucky reader to win one of these soon!
What did you find most interesting about the development of the Dyson DC35 or Dyson in general?
Disclosure: I am a participant in the Walmart Moms program. Walmart has provided me with compensation for the time and effort spent creating this post. However, my participation in this program is voluntary and my opinions are my own — always have been, always will be.