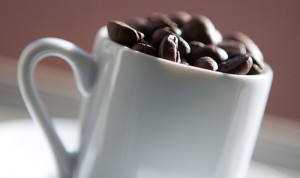 The following is a guest post from The Coffee Maker Store:

If you love coffee and are looking for creative ways to save money without giving up the things you love, then this post is for you. Lots of us hit up the drive-thru of our favorite coffee spot when we drop our kids off at school in the morning, and while the occasional latte here and there looks innocent enough, it could easily cost you a small fortune over time.
Just think: if you spend $4 a day on your latte, that comes to over $20 per week, $80 per month, and almost $1000 per year. Have you ever tried getting something from Starbucks with hungry kids in the car? That amount could easily triple. Needless to say, it's pretty easy to spend a lot of money to satisfy a coffee craving.
So if you're looking to build your savings, pay down your debt, or start living within your means, here are 8 cool tricks to save money on coffee:
1. Avoid Temptation
If you're trying to save money by not buying lunch, you bring your own food from home, right? That means buying baloney, bread, and mustard. The same goes for saving money on coffee. If you have a habit of getting coffee on your way to work, or when picking up the kids from school, make sure you bring your coffee with you. That means having a home coffee maker and a travel mug… and if you're feeling fancy, even a $2 milk frother from Ikea. Taking coffee with you is a great way to stave off your coffee craving when you're on the road.
2. Experiment at the Condiment Station
Some people are coffee purists and drink the stuff black. In fact, they may even look at you funny for flavoring it with cream and sugar. Since most people actually do like a little extra flavor to their coffee, the big coffee joints are happy to serve it to you (and charge a pretty penny for it). So if you have to hit up the coffee house, you can avoid the expensive drinks by making friends with the condiment station. An iced latte with extra syrup is a decent alternative to a Frappaccino. Or you can order black coffee and doctor it up with your own mix of cream and sugar or order a double shot espresso and add milk to create your own latte. Of course, it probably won't taste as good as the real thing the first time, but that's ok. Bring a friend along and make your own concoctions together…it'll be fun.
3. Gift Cards
Gift cards aren't the best way to save money. In fact they can cost you money in the long run, especially if you never use their full value. I mean, what are you supposed to do with $1.37 on a Best Buy gift card? But here's a cool way to save money on coffee. Look for used gift cards on sites like Craigslist, Ebay, Cards Again and Giftah. You'll find people selling all kinds of gift cards to major retailers across the country. From sporting goods, to electronics, to housewares, to — you guessed it — coffee shops. You can buy a full-value gift card or purchase a gift card with a remainder at a discount. It might not be worth your time if you're an occasional coffee drinker, but if coffee is making your poor, this trick can save you some cash.
4. Flavor Your Own Coffee
Another fun way to save money on coffee is to add your own flavors to plain coffee beans instead of buying the flavored stuff. You can mix dried cloves, dried blue berries, dried orange peels, cinnamon sticks, toasted almonds or walnuts, nutmeg, cocoa, or any other flavor that fits your fancy to unground coffee beans and grind them in your coffee grinder. If you don't have one, you can add liquid extracts directly to your coffee, or even to your cream to create your own flavored cream. Flavored creams are convenient, but they're really easy to make at home too.
5. Re-Use Your Coffee Grounds
This tip doesn't have anything to do with drinking coffee, but it could save you a little bit of money on common household items. The key is to find creative uses for your used coffee grounds. You can use coffee grounds as a natural deodorizer in your refrigerator. Used coffee grounds are great for your garden or compost heap because coffee has tons of nitrogen, which makes your soil incredibly fertile and is especially good for tomatoes. It's also an effective (and safe) pesticide. If the neighborhood cat is turning your flower bed into a litter box, sprinkle a generous amount of used coffee grounds and she'll be sure to find another place to do her business. The nitrogen content in coffee also keeps ants away from your house because it burns ants' legs. Lastly, you can stretch your beans by mixing used coffee grounds with fresh ones. Try a 50/50 mix and see if you can tell a difference. If you can, then of course you don't have to do it again. But if not, you just might save 50% on coffee.
6. A Natural Boost
If you drink coffee just for the energy you get from caffeine, consider the fact that eating an apple is proven to give you as much alertness and energy as a cup of coffee, if not more. Exercising is also a great way to boost your energy levels. There's really no way to go wrong here, so even if you do drink coffee, exercise and eat more fruits and vegetables anyway.
7. Look for Deals Online
You wouldn't be a deal seeker if you weren't looking for deals online, would you? Search Google for terms like "free coffee" and "coffee sample," and you'll find plenty of samples. You can even look up coffee membership websites and see if they'll send you samples before you become a member. This will probably get you some of the best coffee around.
8. Coffee Ice Cubes
Now this tip is for real coffee junkies… if you have leftover coffee in your pot, pour it in an ice cube tray and freeze it so for when you make your own iced coffee at home. Use your coffee ice cubes instead of regular ice so that your drink doesn't get watered down as the ice melts (if it lasts that long).
These 8 tips might not sound like much, but if you're looking to cut costs AND maintain your coffee habit, every penny counts.
The Coffee Maker Store is a daily blog and e-commerce store about coffee, coffee makers, and coffee culture where you'll always find the latest coffee news.