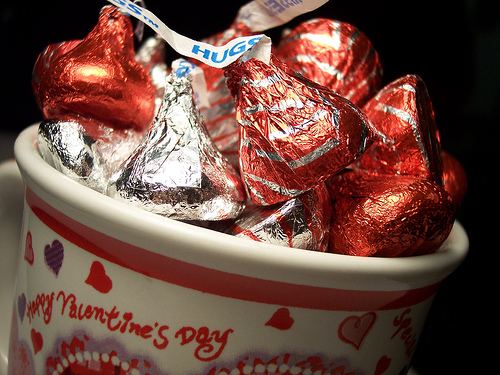 Photo by C.P.Storm
The following is a guest post from Stacy from Saving in Akron:
Whether you've been married for 50 years or are in a budding relationship, everyone wants to show their sweetie some love on Valentine's Day. With the current economic situation, money is very tight for a lot of people, and many people are still dealing with holiday expenses. However, you don't have to spend a lot of money to show someone you care. In fact, some of the best ideas for spending Valentine's Day are also the cheapest. You just need to get creative.
Here are some thoughtful yet frugal ways to show your significant other how much you care:
Forgo the presents this year and write your sweetie a heartfelt letter telling him/her how you truly feel. You might even consider putting it in a frame so they can look at it often. There is nothing more touching or special then receiving a declaration of undying love and devotion. This is a treasure they will guard for the rest of their lives.
Send your significant other on a scavenger hunt. Leave clues for them in various places around your house or around your town. The prize can be finding you, finding the letter you wrote above, homemade goodies or anything that you know is near and dear to your sweetie's heart.
Make a homemade card or gift. If you're a crafter, make them a scrapbook of your time spent together through the years. Or, knit or crochet a hat or a scarf. If you like to bake, make them their favorite dessert or some Valentine themed cookies. If you're a guy, do some tasks around the house or finish some long forgotten projects. Nothing spells out love like a homemade gift.
Give  a gift that will linger on long past Valentine's Day. Couponers love coupons, so make them a coupon book with "special" coupons for things like a massage, a day off from the kids, or no dishes for a week. This way, as they use the coupons up, you will be reminded all year of how much you love each other.
There's no need to spend a lot of money going out to dinner. Cook dinner together and make it special by getting dressed up, having some wine, and of course, having someone else watch the kids. You can even light candles and spread out some rose petals. Light a fire if you have a fireplace. Relax and enjoy each other's company.
Surprise your sweetie with your own wine and cheese tasting event. Buy a couple of bottles of reasonably priced and wine and several types of cheese that you've never tried. If you're not into cheese, make a chocolate fondue with fresh or dried fruit.
Take your sweetie to a museum. Many museums offer free admission and if not, most museums charge a nominal admission. Spend the day strolling around the museum and perhaps stop and linger over coffee and dessert afterwards.
Spend the day learning something new together. Perhaps you've wanted to learn to play golf or ice skate. Maybe now is the time to set aside that day to learn it together.
Serve your honey breakfast in bed. There's nothing nicer than being served breakfast in bed. Make it special with heart shaped pancakes or stuffed French toast and perhaps a single red rose in a vase.
Create a playlist of your favorite songs for your sweetie's IPOD, or put together a compilation video/DVD of your home movies.
Give your sweetie a Valentine's Day gift basket. You can put in some homemade goodies, or head off to the dollar store or the sample section of your favorite store to help you fill up your basket.
Go on a picnic. Head out to the park if you live where the weather is warm. If it's colder where you live, have an indoor picnic in front of the fireplace. Fill up a basket with your favorite snacks and goodies, add in a nice bottle of wine, and enjoy.
Give your partner some free time. There's nothing nicer for a busy mom or dad to get some time off away from the kids. Offer to take the kids out for the afternoon or arrange to have a friend watch them.
Recreate your first date. Show your significant other how much you love them by remembering all of the details of your first date.
If you've been married a while, renew your wedding vows. Saying you would marry her (or him) all over again means more than any gift you could give. You don't need the big party this time either. Just stay in afterwards and snuggle.
Spend Valentine's Day helping others who are less fortunate. Volunteer together. There are hundreds of opportunities available within your own community. Check out volunteermatch.org or serve.gov for ideas. You can also contact your local United Way office or any other local charity for additional opportunities.
Remember, Valentine's Day isn't about the size or the amount of money you spent on the gift, it's about showing the person you're with how much you care.
What's your best fun, frugal tip for Valentine's Day?
Stacy blogs at Saving In Akron, where she shares with her readers how to save more so they can live better.