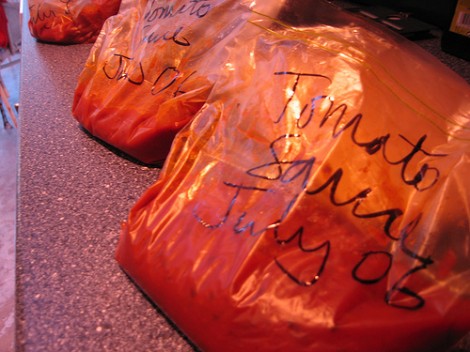 Photo by bowbrick
The following is a guest post from Beth at In Good Cents:
We all know the truth. Staying home and cooking is much more affordable and frugal than eating out.
I love to cook, but with three kids who think any time I'm in the kitchen is the perfect time to start acting crazy, I burn out quickly. After just a few days of cooking, I find myself on the phone with my sweet husband saying, "Please… please… please, stop on the way home and pick something up!"
The good thing about knowing your flaws is that you can plan ahead to combat them so that to the outside world you appear to have it all together, when you're really flying by the seat of your pants.
I've come up with a few ways to combat my own tendency to burn out on cooking at home:
The Encore Meal
The art of the encore meal can be tricky to learn for some. Basically, it means spending time to make one thing that can be turned into something else just as delicious. You'll do all or most of you prep work the first day, then spend the second day just changing it up bit.
Confused? Let's see an example:
Day 1: Cook a whole chicken & serve with sides
Day 2: Take the left-over chicken and use it to make quick & easy Chicken Enchiladas
or
Day 1: Make Chili in your slow cooker
Day 2: Turn that Chili into Chili or Mexican Pizza, Chili Nachos, Haystacks, or Taco Salad
Once you master this art, you can turn one meal into two or three or even make it last an entire week if you don't get sick of eating similar meals ever night.
Left-Over Night
When you cook at home a lot, you accumulate a lot of left-overs. You can enjoy them for lunches or take a page from my book and have a left-over night to empty the fridge.
This has become a family favorite for my kids. The rules are simple. I put out every left-over item in our refrigerator and the kids pick whatever they want. My husband and I have no say. This is the one day I can't remind them to eat their vegetables or not to fill up on bread.
I bite my lip as my oldest daughter fills her plate with meat and bread and simply enjoy my night off.
Design Your Own Meal
Another tradition we've created in our household is Salad Night. Once a week, instead of me cooking, everyone makes their own meal. I lay out all the items we have in our house that could potentially be put in a salad (meats, nuts, vegetables, fruits, croutons, etc…) and everyone tosses in their favorites.
My kids have come up with some delicious and creative salads, and I get to smile because, unbeknownst to them, they are eating something extremely healthy. You'd be surprised what foods can be turned into a delicious salad.
But designing your own meal doesn't have to be about salads. Another of my children's favorites is something my mom used to call Kiddie Kabobs when I was little. She'd set out cheese squares, chicken chunks, olives, and more. Then we'd stick them all on a kabob stick with a marshmallow at the end and enjoy.
Cook & Freeze
The most obvious method to avoid cooking burnout fpr many of us is too cook and freeze. What does this mean? Whenever you're cooking anything, double up the batch — or even triple it — so you can freeze the extras. Next time you're not in the mood to cook or know you'll be running behind, you can quickly pull something out of the freezer to thaw and toss in the oven.
Tada – a quick meal with absolutely no prep time!
Chicken & Spinach Parmesan Hot Pockets
I'm sharing this recipe, not only because it's the perfect freezer recipe, but also because it can be a delicious encore meal to follow Chicken Parmesan, Chicken & Spinach Salad, or even plain chicken breasts. Unfortunately, when I make it though, there are no left-overs.
Ingredients
Pocket
• 2 1/4 cup flour
• 1 egg
• 1/8 cup sugar
• 1 1/8 tsp yeast
• 1/3 cup milk
• 1/3 cup water
• 1/4 tsp salt
• 1/2 stick butter (melted)
Stuffing
• 2 cooked chicken breasts, diced into bite-size pieces
• 2 cups pasta sauce
• 1/2 cup fresh spinach
• 2 cups grated Parmesan
Directions
1. Mix and then kneed all of the pocket ingredients until well blended. Cover and set aside to rise for about 1 hour or longer.
2. Preheat oven to 350.
3. When done, separate dough into approximately 6-7 equal piece. Kneed, roll and flatten each piece into a circle. Top each circle of dough with chicken, douse with pasta sauce, layer with spinach, and sprinkle with Parmesan (leave a bit of Parmesan for later).
4. Gently close each circle of dough around the chicken stuffing mixture and seal by pinching. At this point, you can gently shape them as well, if needed. Top each one with remaining Parmesan.
5. Place on a foil-lined or greased cookie sheet or baking sheet and place in the oven for approximately 20-30 minutes until done. Serve hot.
What other methods do you use to fight cooking burnout? Do you have a favorite freezer recipe?
Beth is a wife and mother of three who shares tips and tricks at In Good Cents to teach her readers the skills they need to dramatically cut their own grocery budgets.