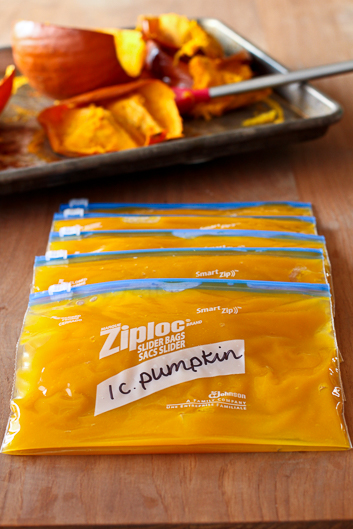 I've touted the time-saving benefits of freezer cooking many times. It's a great way to simplify the age-old "What's for dinner???" question on busy weeknights. Sometimes referred to as "once a month cooking," freezer cooking will also help you save money, as well.
Saving Money with Freezer Cooking
Save by buying in bulk.
While shopping at warehouse clubs isn't an issue for my larger-than-average family, those of you with fewer or younger children might find that the huge packages you take home from a Sam's Club or Costco are simply too much to use up before the item spoils. Planning a large freezer cooking session will allow you to use up these large packages in one fell swoop, allowing you to enjoy that savings that buying in bulk provides.
Save by grocery shopping less.
I don't know about you, but even when I go to the grocery store with a list, I often end up coming home with items that weren't on the list — especially when shopping at superstores like Walmart or Target. When you have a month's worth of ready-made meals waiting in your freezer, you may only need to pick up milk and some fresh produce each week. Shopping less frequently helps you to avoid the temptation to grab unnecessary items altogether.
Save by limiting eating out.
It's just a no brainer that cooking at home is going to save money over ordering takeout or eating out on any given night. My family enjoys eating out together, and sometimes it's a necessity when we're traveling for sports, but balancing those splurges with eating at home as often as possible the rest of the time helps us stay within our budget.
I know freezer cooking might seem a little overwhelming to some of you, and that's okay. You know how they say there's more than one way to skin a cat? Well, there's more than one way to do freezer cooking. Maybe you're ambitious and want to do a weekend spree to cook for an entire month — good for you! If you have less time, try a smaller 4-5 hour session.
Or if you're really pinched for time (and this is my favorite method), simply double whatever you're preparing for dinner on a given night. Finish one batch for dinner, and pop the other into the freezer for later.
And who says freezer cooking has to be limited to dinners? I love to make a double batch of cookie dough and freeze half to bake a few here and there. You can find instructions on how to freezer cookie dough on Unsophisticook.
Some other recipes that I often prepare for my freezer are:
:: Recommended Resources
If you're thinking about trying freezer cooking yourself, I wholeheartedly endorse the following resources. They'll guide you through the process step by step, from creating a meal plan, shopping and prepping, to tips for keeping your meals as fresh as possible!
What is your favorite meal or recipe to keep in the freezer? Share in the comments and you could win a Scott Towels prize package valued at $50!
+++++++++++++++
Today, one lucky Deal Seeking Mom reader will win his or her choice of $50 in Scott Towels products!!! Follow the instructions in the widget below to be entered to win…
Be sure to check out the Pick Up The Values website for more valuable printable coupons, including savings on Scott Towels products!
This post is brought to you by Kimberly-Clark. All opinions are 100% mine.