In just 8 days, my kids' summer break will come to an end and they'll head back to school. Summer just flew by way too quickly… I'm embarrassed to say we haven't even begun our back to school shopping, yet, and I am NOT looking forward to the dent it's going to put in our already-stretched-thin budget.
Thankfully, I've got more than a few years of back to school shopping under my belt, so I've learned some pretty good strategies for saving money along the way. I'm guessing many of you could use a little help stretching your Back to School budgets, so I thought I'd share my tried and true tactics, starting with the all-important prep work!
Prep Before You Shop
Make a list — If you create a list and stick to it, you're going to ensure that you get everything you need in one trip. This is especially helpful if you have several students, as I do. Combine all of their lists into one master list, and you'll save yourself a huge headache.
Take inventory — Every year my kids come home at the end of the school year with bags of unused glue sticks, pencils, erasers, scissors, etc. Don't let these items go to waste; take them into consideration when making your list for this year. Likely you'll find many of these items listed once again.
Do your homework — Gather up those current sales ads and see what the prices are like this week so you can plan your trip accordingly.
How To Shop In Store For Back To School
If you prefer to shop in stores, these tips are for you. But by all means, do the prep work above first to get the most for your money!
Buy discounted gift cards before you go — Once you've decided where to shop, check a site like Raise.com to purchase gift cards for that store at significant savings. Save even more by using the referral code dseeking during registration to receive a $5 credit, and use SAVE5 when checking out for another $5 off a $25 purchase. That's a total of $10 in FREE cash toward your supplies, plus the savings from the discount gift card!
Save on gas — Utilize price matching so you're not running all over town. Carry all of your ads into a store and have that store meet the advertised prices.
Don't forget your coupons — More and more schools are asking parents to supply classroom items outside the traditional school supplies. Items on our list include things like hand sanitizer, Clorox Wipes, Kleenex, and Ziploc Bags. You'll find coupons available for all of these items in the Deal Seeking Mom Coupon Database.
Save your receipts — Many stores will refund the difference if the price of an item you purchased drops within 14 days. Keep the receipts in an envelope in your purse, so you have them handy if you notice a markdown or sale at a later date.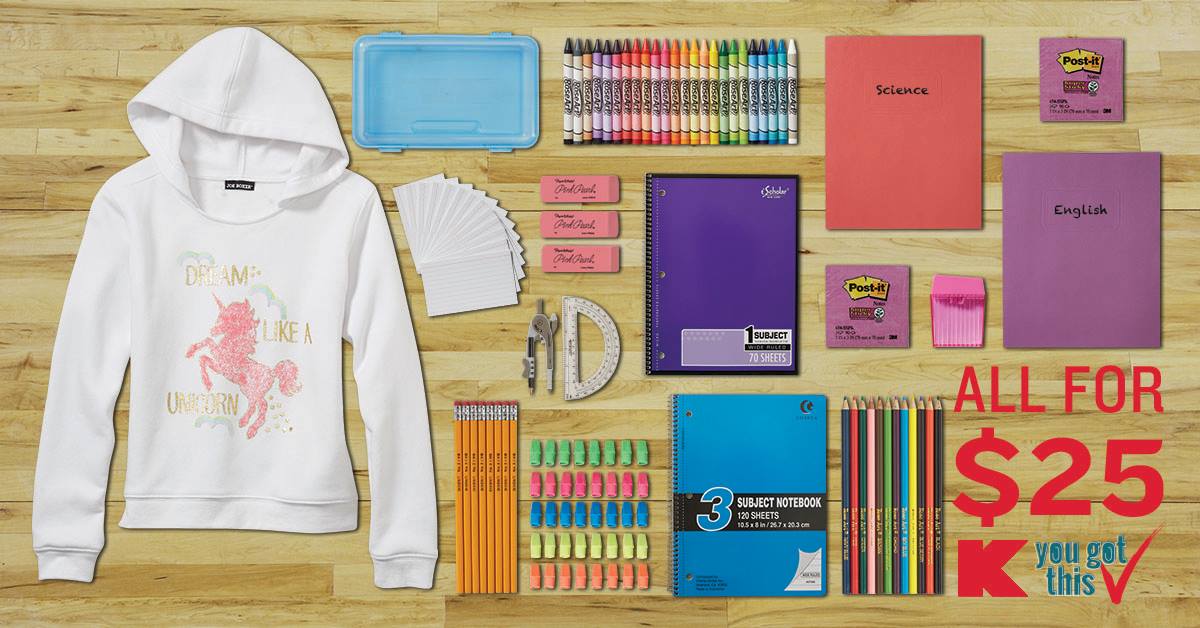 How To Shop Online For Back To School
Just don't feel like fighting the crowds this year? I can't say that I blame you. Luckily, now is a better time than ever to consider shopping online for school supplies and clothing! Let me show you how to save big using a $50 online Kmart purchase as an example.
Buy discounted gift cards before you go — As I mentioned before, checking a site like Raise.com to purchase gift cards can yield significant savings. Save even more by using the referral code dseeking when creating your account to receive a $5 credit, and use SAVE5 when checking out for another $5 off a $25 purchase.

Right now, you can purchase Kmart gift cards for use in stores or online up to 4.2% off. So using a $50 Kmart gift card priced at 4% off as an example, you can purchase it for as low as $38 if you use the referral code and promo code above, cutting $12 off your purchase right from the start!
Shop through a cashback site — Start off your purchase by shopping through your favorite cash back site. For Kmart, in particular, you can earn up to 6% cash back depending on which site you choose. On a $50 purchase, that's an additional $3 in savings.
Search for promo codes before checking out — Do a quick Google search for the store name + "coupons" or "promo code" to find extra savings. Typically you can at least find a free shipping code, but many times you'll find money off or gift with purchase codes, as well.

Kmart actually does some of the work for you, listing some available offers clearly at the top of their site. For example, right now you automatically get free shipping on a purchase of $35 or more. There's also an offer for Shop Your Way members to get $10 back in point when you spend $35 on Back to School items. And when I did a search for "Kmart promo code", I found another code for $5 off a $45 purchase. Combine them all, and that's another $15+ in savings! And don't forget you're saving on gas, too.
All together, this equals a total savings of more than $30!!! Not too shabby for about 5 minutes worth of work. Am I right?! And of course you can use these same strategies to save at any store you like, AND they work beyond Back to School shopping. Discounted gift cards are one of my favorite ways to save year round!
Win a $150 Kmart gift card from Raise.com!
How would you like to win a $150 Kmart gift card? I want to help one of YOU stretch your Back to School shopping budget even further with this awesome giveaway. To enter to win, just comment below to let me know what back to school deals you're still searching for that could benefit from a Raise.com gift card. I'll choose a winner from all of the entries submitted!

Disclosure: Sponsored by Raise.com, all opinions are my own. Thank you for supporting the brands that support this site!