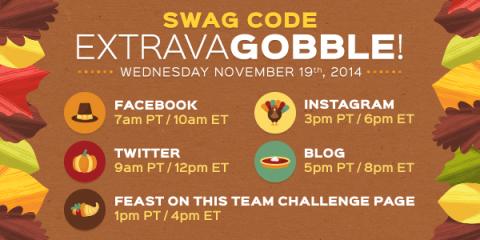 TODAY ONLY! From 7am PT to 6pm PT (10am ET – 9pm ET), make sure to get ALL the Swag Codes with the Thanksgiving Swag Code ExtravaGOBBLE from Swagbucks!
Thanksgiving is a time to gather with friends and family, talk about what we're thankful for and eat a delicious meal. At Swagbucks, Thanksgiving is time for you to gobble up a bunch of Swag Codes!
Here are the turkey-filled, stuffing-stuffed details:
Wednesday, November 19th from 7am PT – 6pm PT (10am ET – 9pm ET)
5 Swag Codes throughout the day worth a total of 35 SB! See the schedule in the image above for times.
Codes will appear on Facebook, Twitter, Feast On This Team Challenge page, Instagram and the Blog!
Start your earnings off with the Facebook Swag Code IWantItAll worth 8 SB! Simply click on the Swag Code vault icon at the top of Swagbucks.com and enter it exactly as shown (Swag Codes are case-sensitive).
Not a member yet? Swagbucks is a simple way to turn your fun online time (and even the not so fun, like using a search engine!) into gift cards! Sign up for free here, and start redeeming Swag Codes now!
That's it — join the fun and let me know how many Swag Codes you were able to get today! Codes can be shared in the comments to help your fellow readers out.
Be sure to check out the newly updated Swagbucks page today for more tips to maximize your Swag Bucks earning potential!