ebay selling

Today (10/18) you can list up to 250 items Auction-style on Ebay for FREE (you'll pay nothing in Insertion Fees—even high-ticket items!).
Thanks, The Freebie Blogger!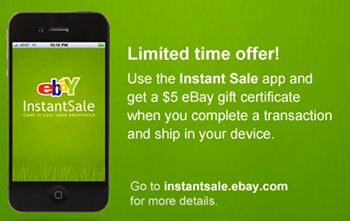 eBay has released a new mobile app called InstantSale that makes it easier to get cash for your electronics. Simply enter the information about any electronic device, and they will make an instant offer and even send you a pre-paid mailing label.  Even better, when you use the app sell an item by tomorrow (8/9), you'll receive a $5 eBay credit toward future purchases!
Thanks, The Thrifty Couple!