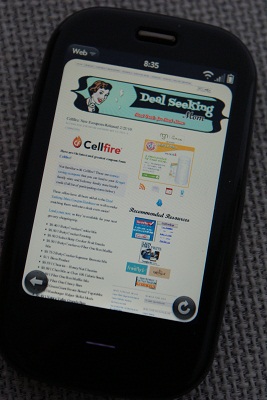 The following post is from the Deal Seeking Mom Project Administrator, Mandi Ehman:
Two weeks ago, I told you how I was using the Palm Pre Plus to get organized.
When I first started reviewing the Palm Pre Plus, I wasn't sure I would keep it once the review was done since there is an additional monthly fee compared to a regular cell phone. However, so many of the features — browsing the internet, accessing my Google contacts & calendars and scheduling our DVR to record a show even when we're not home — have made everyday tasks more convenient, and while it's certainly not a necessity, it's a splurge that we think is worth the cost.
I've found myself using these features the most:
:: Camera. I've taken a ton of pictures with my phone, and I think my mom appreciates the chance to see more everyday moments with our baby girl — cuddling with momma while I work, her first time in the exersaucer, her first taste of banana, and so on. And the best part is most of these pictures are great quality, so I don't feel guilty about not pulling out my nicer camera!
:: Internet browsing. Even though we live in the boonies and don't get a strong enough cell signal to browse the internet at home, my husband has been enabling the WiFi feature to be able to keep tabs on the NFL Scouting Combine and the start of free agency.
:: Calendars & schedules. Last week we unveiled the Deal Seeking Mom calendar to help you keep track of when deals and roundups are posted. I've added these calendars to the personal and business calendars I already have synced with my phone so that I can quickly access my entire schedule wherever I am.
:: Music. I mentioned on Twitter that I've never had an MP3 before, and it's true. Two of my girls have MP3 players and my husband has one, but I've never had one or even used theirs. However, I do love music, and I always have a music station playing on the TV or my computer. But with the Pandora app, I'm able to listen to the music I want to listen to right from my phone. And unlike an MP3player, I don't even need speakers!
Verizon Wireless wants to hear from you too! Enter for a chance to win a $50 Visa gift card just for answering any of the following questions or responding to someone else's comment. Enter as many times as you'd like as long as all of your comments are relevant to the conversation:
Which feature of the Palm Pre Plus most appeals to you?
How would you use it to get or stay organized?
How do you use technology for streamlining and organizing your life?
The giveaway will be open until Wednesday, 3/10 at 4 p.m. EST and is open to all U.S. residents 18 years or older. I'll use Random.org to select the winning comment. Winners will be notified by email and listed on my Giveaway Winners page. Winners must respond within 48 hours of notification to claim their prize. Good luck!
Verizon provided me with a Palm Pre Plus at no charge so that I could review its features for the Deal Seeking Mom readers.