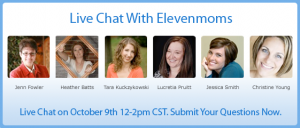 Ladies and gents, the Elevenmoms' big trip to Walmart headquarters in Bentonville, Arkansas is this week! I'll be flying out tomorrow and heading back on Saturday.  I'm going to miss my kids dearly, but they've got tons of fun and exciting things planned for us.
Just a taste:
Makeovers using a special secret new shampoo
A special Thanksgiving dinner at the Campbell's Test Kitchen with Chef Christopher Lee of the New York Palace Hotel's Gilt Restaurant
Visiting the Walmart Innovations Center
and the infamous Saturday Morning Meeting at the Walton Family Fitness Center! (Harrison Ford and Paula Deen will be attending!!!)
Most of us will be twittering throughout our trip, so make sure you're following me on Twitter!  We'll come back with the inside scoop on the hottest toys for Christmas and an exciting twist regarding Black Friday!!!
In addition, Thursday from noon to 2:00 p.m. CST six of us will be hosting an online chat live from Bentonville! You can submit questions in advance now or during the chat.  Ask us any burning questions you have about saving money, couponing, stretching your budgets for the holidays, and more.  I'm really hoping to "see" some familiar Deal Seeking Mom faces there!
One last note, I'll be checking in during my trip, but I'm not sure how much time I'll have for actual blogging.  You all have been doing such a fabulous job of helping each other out in the comments when I'm not around that I trust everyone will still be well taken care of!
I've got some great guest posts lined up, and I'll have the CVS and Walgreens deals and scenarios as well as a summary of my trip when I return on Saturday.  Wish me luck!
Want the latest Elevenmoms updates as well as great freebies, steals, and deals delivered right to your inbox? Subscribe to my email digest. Or if you use a feed reader, subscribe to my RSS feed!