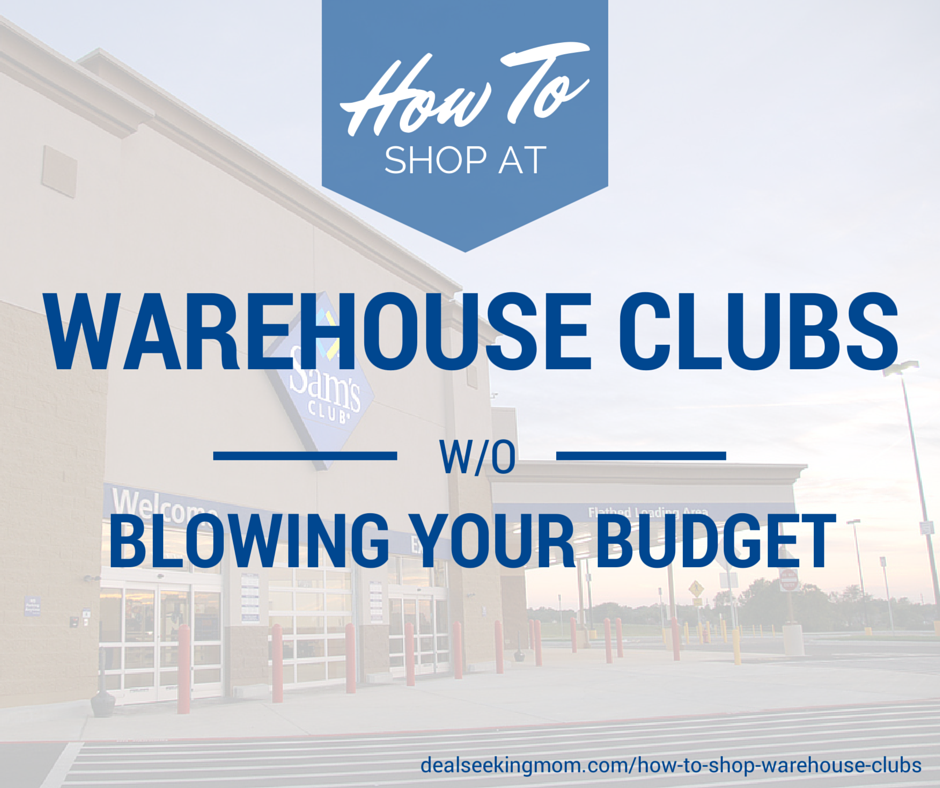 The ultra-low prices, the oversize carts, the free samples… Warehouse clubs are innately designed to get you to part with your hard-earned money. Can you really save money by buying in bulk at your local Sam's Club, Costco or BJ's???
The truth is, yes, shopping warehouse clubs can be a great way to save money, BUT you're going to have to do some smart shopping and have some serious willpower. So before you ever step foot in your local Costco, et al, learn these rules for shopping and take them to heart.
7 Rules for Shopping at Warehouse Clubs
Start with a list.
Wandering aimlessly through a warehouse club is a surefire way to empty your wallet. Even if your list isn't super specific (I know at first you may not be familiar with exactly what products they carry), at least having a general plan of attack will help you keep more cash in your wallet. At the very least, you should have a firm spending limit in mind before you walk through the door.
Know your limits.
Sure, those huge bulk packages can save you a lot of money, but if you can't use the quantity before the items spoils, you're probably wasting more money than you saved. If you're doing a large freezer cooking session, sure, you can probably use up that massive bag of onions. If not, well, you should probably skip that purchase — or consider going in with a friend to split the bounty while still saving.
Compare prices.
Price out your grocery bulk buys per item and compare the unit price to your local grocery store to ensure that you're really saving. The larger packaging can make the unit price very deceiving, so keeping a calculator handy is a must. If you keep a price book, you already have a head start on this, but if not, grab a small memo pad and just jot down the items you buy most frequently along with the prices every so often to verify that you're really getting the most for your money. The same goes for big ticket items — always do a price check for the exact make and model to ensure that you're really getting a stellar price.
Avoid the middle of the store.
While I usually avoid the middle of the store at grocery stores because I'm trying to steer clear of processed foods, I also avoid them at warehouse stores — but for a different reason. Warehouse clubs typically stock the middle of the store with their biggest impulse buys, so if you're lacking in willpower, just avoid that section all together.
Don't forget your coupons.
While only BJ's accepts manufacturer's coupons, both Sam's Club and Costco offer store coupons. If you're not using them, you're missing out on additional savings that could turn a so-so price into a stellar deal!
Understand the pricing.
Merchandise moves fast at warehouse clubs, and it's a roll of the dice as to whether a particular item will be available on your next visit. Luckily, these insider tips can help you make an educated guess. At Costco, prices that end in a 7 indicate a clearance item. Also, an asterisk on a sign means that the item is limited to the stock in the store and won't be reordered (a good indicator whether or not that tempting buy will be available on your next trip). Sam's Club's clearance prices end in a penny (ex. $7.91) and/or the signs are marked with a "C". Sales prices at BJ's are clearly marked.
Gift cards are the hidden gems. Though the brands turn over frequently, you can frequent purchase top-tier gift cards for less than face value at warehouse clubs. The catch is you often have to spend upwards of $50 to get the savings, but with the savings often being close to 20%, you can save a bundle if they're establishments visit often.
I realize that many of these strategies are comparable to those that we use in our everyday grocery shopping, but they can also help you shop wisely at warehouse clubs!
Do you have a warehouse club membership, and if so, what are favorite items to purchase there? Share in the comments and you could win a Huggies prize package valued at $50!
+++++++++++++++
Today, one lucky Deal Seeking Mom reader will win his or her choice of $50 in Huggies products!!! Follow the instructions in the widget below to be entered to win…
Be sure to check out the Pick Up The Values website for more valuable printable coupons, including savings on Huggies products!
This post is brought to you by Kimberly-Clark. All opinions are 100% mine.