The following is a guest post from The Coupon Project.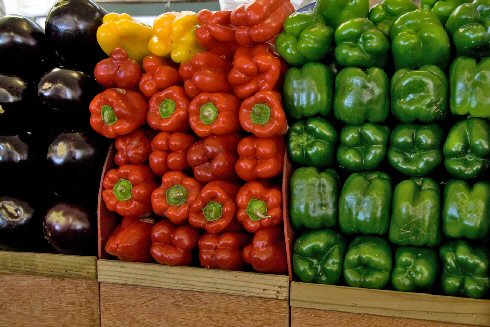 Photo by mhunter111
As a newbie couponer, it was exhilarating leaving a store knowing I'd just saved more than I spent.  But a couple months in, I knew it was time to buckle down and get serious about formulating a real plan to transform my entire grocery bill.
So at the start of this year, I decided to do something a little different.  I decided I was going to track my savings and spending more carefully.   That way I'd know in any given month how closely I'd hit my goals, what my savings ratio was like, and if I was making any improvement as the months moved on.  Using this information, I could also create goals for what I wanted my spending to look like for the months ahead.
In retrospect, my process for doing this has involved four steps.  Here they are:
STEP ONE – determine how much you are spending now. In order to set a goal, you need to know where your starting point is.  Try to get a 3-month average of what you typically spend on groceries.  You also need to establish what you are going to count in this category.  Household products?  OTC medications?  Baby necessities?  Gifts?  And if you don't have actual numbers to deal with, estimate what you think you spend and then see how close you come to that figure the following month.
STEP TWO – set both short- and long-term goals. Keep it simple and straightforward.  As an example, my long-term goal is to spend no more than $200/month for my family's groceries and household items.  Since I just started couponing and stockpiling in November, I knew that this goal might take awhile to achieve.  So I'm easing my way to that goal with short-term (or midway) goals.  For instance, this month my goal was to spend no more than $300.  I can't say I achieved that, but I will go ahead and keep that $300 goal until I am successful in meeting it.  Once I've met that goal, I will lower the monthly budget amount to say, $275. 
You might also decide to set a goal around the percentage you save each month.  Right now, I'm running around a 65% savings rate.  Maybe I could try to work towards a 70% rate, as an example.  You want to have goals that push you – but you don't want to be so unrealistic that you just set yourself up for failure, either.  There's a balance and it may take a while to find it.  Be patient and don't give up!
STEP THREE – create a method of tracking your spending and saving. I am a Microsoft Excel nut, so a few months back, I created a spreadsheet so I could just plop in the data from my receipts and leave the calculating to the spreadsheet.  Yes, it took some work upfront, but now it's quick and easy for me to track my goals.  If you prefer a more manual method, that's fine.  Just do whatever you can to make the process as intuitive and easy as possible for you.
STEP FOUR – reflect on your progress. If you meet your goal for the month (or whatever time frame you designate), figure out what you did that worked for you so you can replicate your success.  Didn't meet a goal?  Take the time to determine what went awry.   Were your goals unrealistic?  Did something unexpected come up?  How could you do better next time?  Whatever you do, don't just throw in the towel and say "to heck with it!  I give up!"  Remember that every dollar you save is one less dollar you now have to earn.  (Remember that old adage, "A penny saved is a penny earned?")
Yes, saving 50% or more in a single shopping trip is exhilarating.  But knowing you are saving 50% or more on your entire grocery bill for the month is even more satisfying.  I hope I've given you some practical advice (and maybe a good dose of inspiration!) for creating your own goals and tracking your spending.
Deal Seeking Mom here: What methods do you use to track your savings? What kind of goals do you have in place?
Angela is the author of The Coupon Project, a blog chronicling her real life couponing adventures.   Her goal is to encourage and educate other newbie couponers how to enjoy amazing money-saving success through easy-to-follow posts.