The following is a guest post from Cha-Ching on a Shoestring.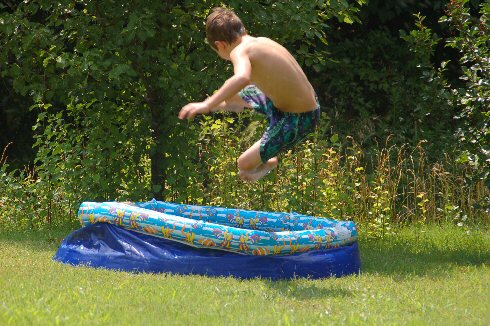 Photo by ssdg4773
Our family loves vacation.  We spend months planning and preparing and looking forward to another crazy week with our extended family…all 19 of us.  The memories we make each year have become legendary.
That's why when a variety of circumstances (my husband's recent unemployment, my sister's family's recent move, and my very pregnant self) led us to attempt our very first "staycation" last summer, we were a little nervous.  How would staying home ever compare to our previous beach, amusement park, and camping trips?  Could we possibly find enough entertainment in our little town for a whole week?
In the end, we loved it.  It rates right up there with the most fun vacations we've ever had, and it definitely was the least expensive.  We even managed to add a few more memories to our list of vacation legends.
If you are feeling uncertain about taking another pricey vacation, you may want to consider a staycation for your family this summer.  Here are a few tips on how to make the most of your time with a little bit of creativity and even less money:
Make a plan in advance. It may be too easy to slip into your regular routine without setting up some kind of schedule for the week. Since we had multiple families involved, each family was assigned a day in which they were in charge of the activities. To make things even more fun, each family used Evite.com to send an evite a few weeks in advance to invite the others to their day's festivities.
Use this as an excuse to try out something new. Who would have thought that one of our favorite activities would be an art museum? We asked around about what activities other people have enjoyed within driving distance of our home and ended up trying out a new zoo, an Imax theater, and rafting down a local river. If you live in a more rural area, consider taking a couple of day trips to the closest city. If you live near a large city, you may want to take advantage of all-in-one event passes like citypass.com.
Do what you can to make your home feel like a destination spot. We were lucky enough to have a family friend offer their huge bouncy-house water slide for us to borrow for the week, which the kids LOVED (as well as the occasional uncle). Have a cook-out, don leis and grass skirts, and enjoy a Hawaiian Luau. Borrow bikes, video games, wading pools, tents-whatever it takes to make your home feel a little less like home.
Don't be afraid to REST! Often vacations can be exhausting because you feel the need to fit in enough activities to make your trip worth your while. Enjoy the fact that you don't need to feel this pressure. Set up designated rest times when kids can watch a movie or play games and the adults can put up their feet.
Remember that sometimes it's the simple things that matter. Staying at home gave us time to enjoy walks to the park, playing card games, and a late night meteor shower-activities that sometimes get neglected in our hectic everyday lives. In the end, isn't vacation really meant to be all about simply being together anyway?
Deal Seeking Mom here: Have you perfected the art of the staycation? Do you have any additional tips for fun and frugal summer activities?
Kaley blogs with her husband Wes at Cha-Ching on a Shoestring, chronicling their journey of learning to live large on a limited budget and helping others do the same.