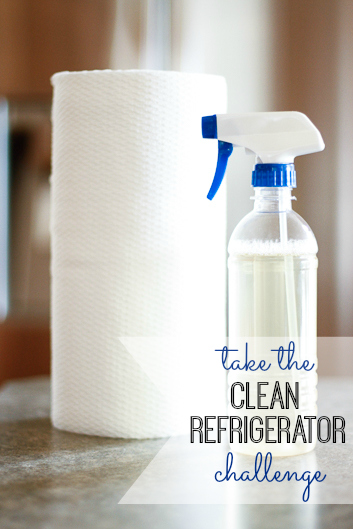 This is slightly embarrassing, but I have a confession to make… You guys know I'm all about saving time and money, right? And I've shared before how a clean refrigerator can help save both.
Well, the truth is I honestly cannot remember the last time I've deep cleaned my refrigerator. I can't even begin to describe the terrible state it had reached, so I'll show you a photo: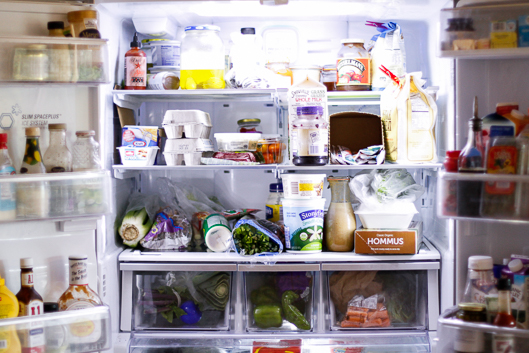 Everything stuffed in haphazardly, crumbs, stickiness — who knows what's lurking in the back?!? But the worst of it wasn't even revealed until I removed the long snack drawer on the bottom…
Apparently at some point several months ago (at least), my kids spilled a significant amount of milk inside the fridge. While they must have thought they wiped up the mess, they clearly did not realize that most of it ran down under the snack drawer. I'm gagging just thinking about it. I will have nightmares about scrubbing that funk out for the next year!
It took a good 45 minutes and a lot of elbow grease, but I turned on some music and started scrubbing. Several Viva Towels later I had this: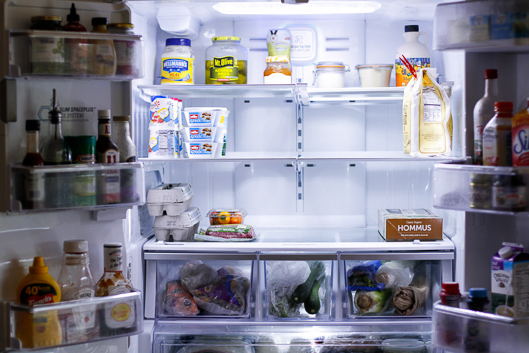 Much better, isn't it?!? I took everything out, checking expiration dates as I went and tossing anything that was past its prime. Surprisingly, there wasn't much to get rid of — I mostly just needed to organize everything better.
After pulling it all out, I was easily able to pull out the drawers (this is when I discovered the milk, blech), which made wiping the shelves and drawers down an easy task. Putting everything back into the fridge in an organized manner was much easier since I had a clean slate to work with.
Now the trick is to maintain it! Since we receive our weekly produce bins on Fridays, I'm pencilling in a quick once-over for Friday mornings with a deep-cleaning once a month.
Are You Ready To Take The Clean Refrigerator Challenge?
Now it's your turn — I'm challenging you to whip your refrigerator into tip-top shape at some point over the next week. What's the oldest item you had to toss or the worst mess you had to clean up in your refrigerator? Share in the comments and you could win a Viva Towels prize package valued at $50!
+++++++++++++++
Today, one lucky Deal Seeking Mom reader will win $50 in Viva products!!! Follow the instructions in the widget below to be entered to win…
Be sure to check out the Pick Up The Values website for more valuable printable coupons, including savings on Viva products!
This post is brought to you by Kimberly-Clark. All opinions are 100% mine.