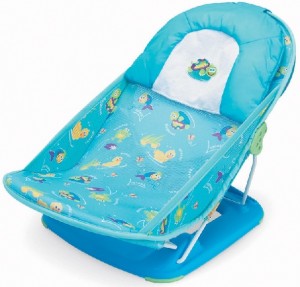 Summer Infant Inc., of Woonsocket, R.I. announced a voluntary recall of Mother's Touch/Deluxe Baby Bathers, because when the bather is lifted and/or carried with an infant in it, its folding wire frame can suddenly disengage from the side hinge, dropping the baby out of the bather, posing a fall hazard and a risk of serious head injury to infants. This recall involves Summer Infant baby bathers with a small, nearly square blue or pink plastic base measuring about 13 ½ inches long by 12 ½ inches wide and with the model numbers listed here. Model numbers are located either on the side of the baby bather near the warning label or on the front near the wash instructions. Some units have multiple model numbers. Model numbers with an additional letter at the end of the model number are also included in this recall. The affected bathers were sold at mass merchandise stores nationwide and on the Web from September 2004 through November 2011 for between $15 and $30.
Consumers should immediately stop using the bathers and contact Summer Infant for a free repair kit that includes a locking strap and instructions. Note: Even with the new locking strap installed, the baby bather product should never be used to lift and carry an infant. For additional information, contact Summer Infant at (800) 426-8627 between 8 a.m. and 5 p.m. ET Monday through Friday or visit the firm's website . Do not return to stores as the retailers will not have the repair kit
Consumers should stop using recalled products immediately unless otherwise instructed. It is illegal to resell or attempt to resell a recalled consumer product.