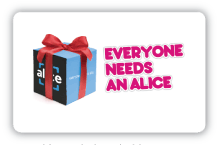 Through 11:59 CT tonight, you can purchase Alice.com gift cards at 30% off! I shared my thoughts on Alice a few weeks ago, and this is a fantastic way to turn this site into a real bargain.
Follow the steps in order below, because when you register using the link I've provided you'll also receive a $10 bonus credited to your account when you spend $50!
To order your gift cards at 30% off:
Then click on this link to order your gift cards. You'll automatically receive 15% off. Share the offer on Facebook for an additional 15% off, for a total of 30% off!
This is a great way to save on paper products that rarely have good stockup deals, as well as just helping out in a pinch. Alice.com always offers FREE shipping, and their clip-free coupons make saving easy.
In fact, I'm going to order a few myself so I can do just that!