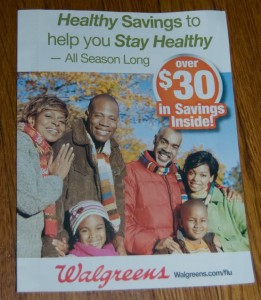 I've had a number of you inquire about the Walgreens Healthy Savings coupon booklet, so I figured I'd post some of the coupons as well as a photo of the booklet itself so you know what to look for.
$0.50/1 Airborne (10-ct.)
$1.00/1 Alka seltzer Plus
$3.00/1 Claritin (24 or 30-ct.)
$0.50/1 Little Noses and Little Allergies
$1.00/1 Pepto-Bismol InstaCool Chewable Tablets
$2.00/1 Theraflu
$2.00/1 Triaminic
These are all store coupons, so that means they can be stacked with a manufacturer's coupon for additional savings!
Expires 12/31/09.