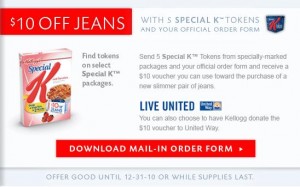 If you haven't done the Special K deal at Kmart yet this week, here's a way to make it even better (and if you've already done it, you should be able to do it again because the Special K coupons have reset)!
Looks for the specially-marked packages and you can get $10 off the purchase of any jeans when you submit 5 Special K tokens and the mail-in form.
Offer good until 12/31/10 or while supplies last.
(Thanks, I Heart Coupon Deals!)