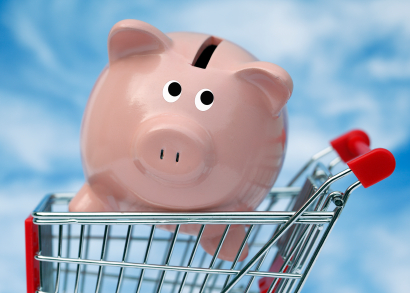 Mandi from Organizing Your Way (and the Deal Seeking Mom Project Administrator) is exploring 31 Days of Organizing for a Better 2010 this month with tips to make your resolutions a reality.
Today, she's talking about building your savings, and I wanted to share an easy way that almost anyone can find an extra $520 a year in their budget to add to savings!
Coupon myths — we've all heard them from our friends and family. Sure, they're amazed by our savings, but there's always an excuse for why they can't do the same:
Using coupons is too hard.
Cutting and sorting coupons takes too much time.
Coupons don't really save you that much money.
I never find coupons for the items I need.
And on and on…
Now we know that none of these are true. There are tons of resources online that make using coupons super simple these days. The organization part does take a small amount of time, but coupons can save you a bundle that will make that extra time pay off. And I'm fairly certain that there are at least a few coupons out there for everyone these days.
So what is the real reason these people aren't using coupons? Maybe they just don't want to bother with them. Maybe they're just comfortable with their current routine and are living within their means, so it seems like a non-issue.
But I often wonder if they've stopped to think about what they're missing out on. Consider this — if you only clip coupons from the Sunday paper for items that you need or usually buy, and then you actually use them when you're at the store, I'd estimate you could save on average at least $10 a week. That translates into around $40 a month or approximately $520 a year!
Now how much more could you save if you take an additional ten minutes to check out a resource like the Deal Seeking Mom Coupon Database to see if there are any printable coupons available for items you're planning to purchase?
Of course the challenge in this is translating these virtual savings into concrete savings. If you're spending that extra money on lattes or quick trips through the drive-thru, then you probably haven't truly saved anything. But if you take two minutes to login to your checking account after grocery shopping and transfer the amount you saved to your savings account, now you're making real headway on building a savings that may come in handy some rainy day.
What could you do with an additional $520 or more a year? Clipping coupons is a simple way to start building your savings without changing your lifestyle one bit. So why don't you check out the Grocery Grab and Drugstore Deals to get started today?
Head on over to Organizing Your Way for more tips on building your savings in 2010!