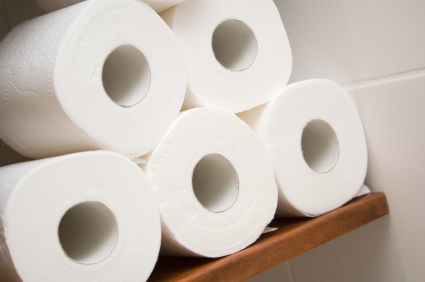 Let's talk toilet paper for a moment. It's definitely a necessity, and I personally find it to be one of the most difficult items to stockpile. Deals have been somewhat scarce lately, and in addition, it's just darn hard to figure out whether you're really getting bargain on it. With double rolls and ultra packs, etc., how do you know if you're paying a reasonable price or not?
Reader Beth left this tip on my recent Target and CVS Savings post that makes it super easy to tell if a sale price on toilet paper is worthy of stocking up or not. It shall forever be known as the "Toilet Paper Principle" here on Deal Seeking Mom!
Look at the front bottom of the toilet paper package to determine the total square feet. Now insert a decimal point in this number two places to the left. If the cost of the package minus coupons is less than or equal to this figure, it's a decent deal — basically $0.01 or less per square foot!

Example:

TP #1 = 400 sq. ft.; price = $6; stock-up price $4, so not a fabulous deal.
TP #2 = 650 sq. ft.; price = $5; stock-up price $6.50, so definitely a bargain!
Thanks so much, Beth, for sharing this simple concept!
Do you have any similar tips and tricks that you use to determine whether a price on a product is a stockpile deal?