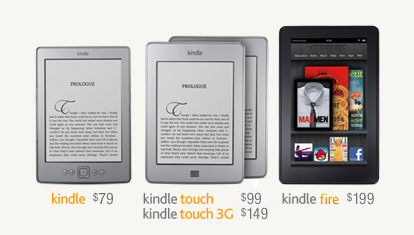 If you've been holding out on purchasing a Kindle, the temptation just got a little sweeter. Yesterday Amazon released a $79 version of the Kindle
, as well as several other models at a variety of price points, one of which is an all-in-one tablet — the Kindle Fire
— for just $199!
All of these ship for FREE, although the Kindle Fire is not scheduled to starting shipping until 11/15.
For voracious readers, the Kindle can quickly pay for itself if you take advantage of Amazon's FREE Kindle books, and at $199, the Kindle Fire might be a good alternative to the more expensive iPad!
Is a Kindle on your wishlist?