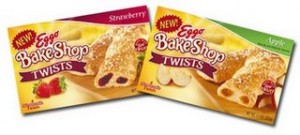 Eggo Bake Shop products are still on sale at Target for just $1.50. Pair the sale with the great coupons still available and the Kellogg's Fuel For School Rebate I just posted about, and you've got yourself a money maker of a deal!
Note: You'll need access to 3 computers to print enough coupons to maximize your savings, so hit up those friends and family that don't coupon.
Buy (10) Eggo BakeShop Products, $1.50
Use (10) $1/1 Eggo BakeShop printables or $1/1 Eggo BakeShop printables
Submit for $10 Kellogg's Fuel For School MIR
Earn $5 on this transaction!
Even if you only have access to one computer, that gives you 4 coupons (print twice from each site), so that makes them only $0.10 ea. after coupons and MIR!
Some of you have reported having trouble using coupons on trial size items and the Rayovac batteries free deal lately, so I just wanted to direct you to the Target Corporate Coupon Policy. Print a copy off to carry with you, or if you'd prefer a more official copy, email Target customer service and ask them to send you the policy.