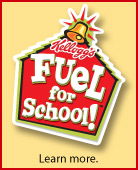 Get $80 in savings from Kellogg's and Dell with the 2009 Fuel For School Rebate! Just register on the Kellogg's website and then download your form (PDF format).
Purchase 10 participating products between 7/6 and 9/30, and mail in your rebate form, UPC codes, and original dated cash register receipt by 10/9 to receive a $10 rebate check plus a $70 of coupon code for Dell by mail.
Note: All 10 items must be purchased in a single transaction.
Participating products:
Any Kellogg's Cereal (10-oz. or larger)
Any Keebler (8-oz. or larger)
Sunshine Product (8-oz. or larger)
Eggo Product (4-ct. or larger)
Kellogg's Nutri-Grain Cereal Bar (8-ct. or larger)
Kellogg's Special K Cereal Bar (8-ct. or larger)
Kellogg's Pop-Tarts Toaster Pastries (8-ct. or larger)
Kellogg's Rice Krispies Treats Squares (8-ct. or larger)
Kellogg's Fruit Flavored Snacks (6-ct. or larger)
MorningStar Farms Veggie Foods Product (5-oz. or larger)
100 Calorie Right Bites (6-ct. or larger)
(Thanks, Cherry Picker!)