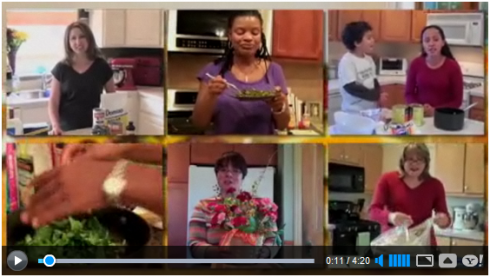 Thanksgiving is a big deal in our family — we have much to be thankful for, so we relish celebrating this day with friends and family and, of course, lots of delicious food. I recently had the opportunity to share one of our family Thanksgiving traditions with Yahoo! Shine.
On most tables you'll probably find that the turkey is the main attraction, crispy and browned to perfection and filled with tasty stuffing. But I have a confession to make… I really don't like turkey.
There, I said it! Call me un-American if you will, but I just don't care for it. Oh, yes, we still have a turkey. I'm certainly not going to deprive my kids of an American tradition. But my husband is responsible for that component of our Thanksgiving meal, bundling up each year to fry up a turkey in peanut oil out in the cold. I'll even eat my obligatory small slice, enthusiastically complimenting said hubby on his turkey-frying prowess, but all the while my thoughts are racing ahead.
For me, and I dare say for my five kids as well, the pumpkin pie is the star of the show. The turkey and all of the tempting side dishes served are just the opening act for the two glorious homemade pumpkin pies that I bake each year.
Yes, I hear you — baking pies from scratch isn't an easy task, but store bought pumpkin pies can't hold a candle to the creamy goodness of a homemade pumpkin pie, not to mention you can bake at least two of these treats for the price of purchasing one!
And so each year I carry on the tradition of baking my pies from scratch, using the Crisco Pie Crust and Pumpkin Pie Filling recipes passed down from my own mother who also baked our pies every year, a tradition that I hope at least a few of my kids carry on with their own families some day.
What are some of your family's Thanksgiving traditions?