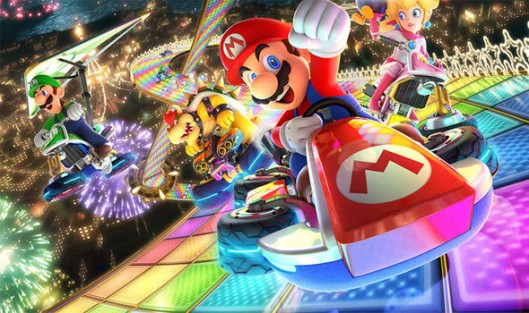 It's Nintendo Switch's birthday! To celebrate, GameStop is introducing the #NintendoSwitchChallenge — a fun (and a little wacky) way to play Mario Kart! We're a total Switch family, so my boys just HAD to try it out. Check out their video below (or click here to watch on YouTube). It was such a blast!
Now, it's YOUR turn! Film your race, then post it all over social media. Make sure to tag @GameStop with the hashtag #NintendoSwitchChallenge. They're going to be giving away a bunch of awesome Switch accessories for fans who do the challenge. And tag me too — @TaraKuczykowski! I'd love to see how your race compares to ours.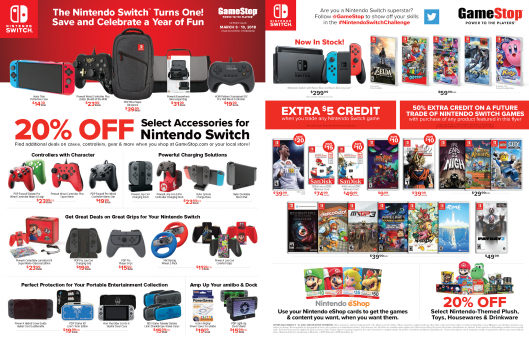 Make sure to visit your local GameStop from March 3-10, because more than 50 Switch toys, collectibles and accessories are going to be on sale! Here are the top deals, but you can check out the full lineup of sales on GameStop's flyer:
20% off select Nintendo Switch accessories—controllers, charging docks, carrying cases, racing wheels and more
20% off select Nintendo-themed plush, toys, housewares & drinkware
Up to $20 off select Switch games (FIFA 18 for only $39.99!)
Get an extra $5 when you trade any Nintendo Switch games
50% extra credit on any future Nintendo Switch game trades with purchase of any of these sale products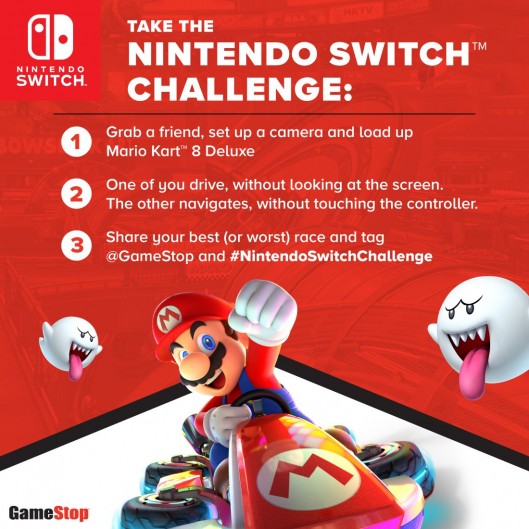 On to the challenge! Here's how to play…
You'll Need: At least two players, a Nintendo Switch, and Mario Kart 8 (don't have a Nintendo Switch? Don't worry—GameStop has you covered! More than 1,400 stores have a demo Switch, where you can film your challenge – check out their Switch store locator to find the nearest Switch-ready store near you)
Player One: This is the "Commander," who sits facing the screen – it's also fun to have more than one Commander, just beware—it can get a little loud!
Player Two: The "Driver" sits with their back to the screen (or blindfolded)—with the Joy-cons or controller
Rev Your Engine: Start up your Switch, fire up Mario Kart 8 and get ready to put your skills to the test
The Challenge: The Commander guides the Driver through the course –telling them when to turn, use their items, avoid running into walls and cows and fences…
Share: Post your best race on your Facebook, Twitter, Instagram and/or YouTube channel! Make sure to tag @GameStop with the hashtag: #NintendoSwitchChallenge
Win A Switch Accessory Prize Package!
Today, one (1) lucky Deal Seeking Mom reader will win a Nintendo Switch Gear Prize Pack from GameStop and PDP (ARV $150+), which includes the following:
Follow the instructions in the widget below to be entered for a chance to win…

This giveaway is sponsored by GameStop; all opinions and text are my own. Thank you for supporting the brands that support this site!