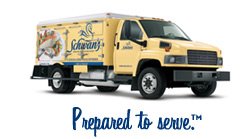 I know a lot of you were pretty excited about the previous Schwan's offer that I posted, so I'm thrilled to tell you about the Free Food giveaway they're doing beginning August 1st!
Be one of the first 500,000 to visit the Schwan's Free Food giveaway page starting 8/1, and you could get $10 in FREE food plus free delivery.
Those who have purchased items from Schwan's Home Service in the past 14 weeks and those not located in an existing route of the delivery service are not eligible to receive the free offer.
(Thanks to Wendi at The Freebie Blogger!)