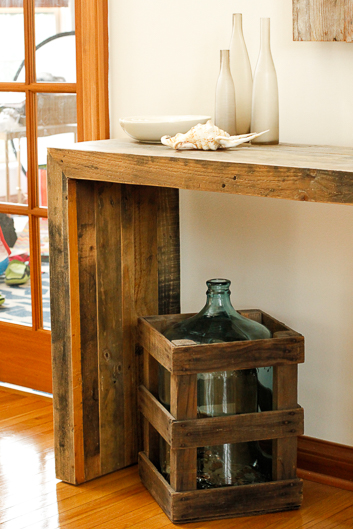 I'm always surprised at the amount of loose change my kids find laying around. They're masters at spotting dropped change in parking lots, coins left in return change slots on pop machines, nickels wedged into park benches, etc…
I suppose they come by it honestly. I remember being 16 years old, searching the couch cushions for loose change to put a few gallons of gas in my car — you know, back when gas was like $0.89 a gallon.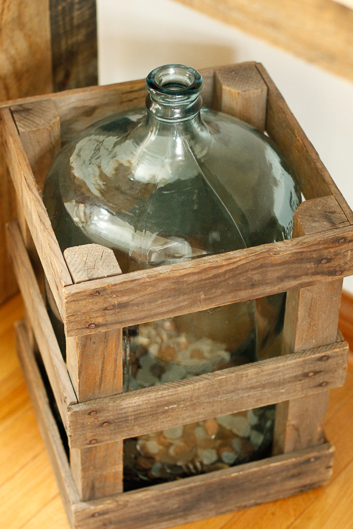 These days spare change doesn't go nearly as far when filling up your gas tank, but that doesn't mean that we should just cast it aside. Those pennies and dimes still add up to dollars over time!
A couple of years ago we decided, as a family, to save all of our loose change. I set out a mason jar in the kitchen, which was quickly filled to overflowing. So I purchased a vintage glass water jug off of One Kings Lane, and now it sits in our entryway where it's easy for each family member to drop in their contributions.
Oh, we're a loooonnnngg way from filling it up, but we definitely have a goal in mind…. These days my kids like to show it off to their friends and tell them it's our "Hawaii fund." I honestly don't even know if our jug can hold enough change to pay for our family of 7 to take a trip to Hawaii, but by the time we (hopefully) fill it up, all of our kids should be old enough to fully enjoy and cherish the memories of such a trip.
In the meantime, I'm enjoying watching my kids delight in checking the rising level of our saved pennies (and nickels, dimes and quarters), knowing that they're learning how to make a conscious decision to save.
What is your family saving for? Share in the comments and you could win a Kleenex Brand prize package valued at $50!
+++++++++++++++
Today, one lucky Deal Seeking Mom reader will his or her choice of $50 in Kleenex Brand products!!! Follow the instructions in the widget below to be entered to win…
Be sure to check out the Pick Up The Values website for more valuable printable coupons, including savings on Kleenex Brand items!
This post is brought to you by Kimberly-Clark. All opinions are 100% mine.