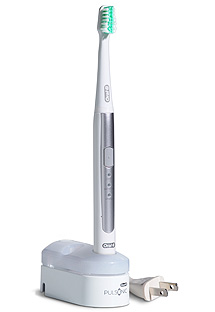 Thanks to my wonderful reader Terri for sharing how she snagged an Oral-B Pulsonic Toothbrush at Rite Aid for FREE!
While you're at it, ask them to print you an extra receipt.  There's a good possibility that you'll be able to submit this for the $120 in coupon savings from P&G to make this an even better deal!


Follow these steps to get yours:
Check with your Rite Aid to see if they allow price matching. If they do, find out what the requirements are.  Walmart has the Pulsonic for $50 currently, and Terri was able to have a flook clerk run her off a price tag to use for the price match, but Rite Aid might also consider a cell phone photo or verification over the phone as well.
Use the $10/1 Pulsonic coupon from the Rite Aid 12/21 sale flyer. You can probably pick one of these up in the store.
Use the $5/$25 coupon that you receive when registering on the Rite Aid website. These expire 12/31/08.
Submit for the Rite Aid $20 Single Check Rebate #100. This is valid on purchases through 12/27.
Submit for the P&G Oral-B Pulsonic $15 mail-in rebate. This is valid on purchases through 12/31/08.
If your store allows the price matching, doing all of the above will net you a FREE Pulsonic ($69.99 – $20 price match – $10 coupon – $5 coupon – $20 RA rebate – $15 Oral-B rebate).  Without the price matching, you'll get it for $20 which is still a great deal!
*If you purchase 12/24 and have not taken advantage of the Rite Aid Gift of Savings, you can also submit for an additional $10 Rite Aid gift certificate making this either a $10 moneymaker or only $10 out of pocket.